This article was contributed by Jenny Kopf, Director of Admissions and Advancement for St. Michael Catholic High School in Alabama.
For nearly forty years, the people of Baldwin County have been praying for a Catholic high school. It is finally a realization with the opening of St. Michael Catholic H.S. in Fairhope, Alabama on August 17, 2016. It will open with freshman and sophomore classes and will add one grade each year thereafter, for a maximum enrollment of 350-400 students. Archbishop Thomas J. Rodi blessed the school at the dedication ceremony on Saturday, August 6th.
In 2009, the Archdiocese of Mobile acquired the services of Dr. John Convey and Dr. Len DeFiore from The Catholic University of America in Washington, D.C. to carefully examine the need for a Baldwin County Catholic high school. They concluded that approximately 250-400 students would enroll if one was available. In 2010 the Institute of School and Parish Development (ISPD) was commissioned by the Archdiocese to conduct a financial feasibility study. The conclusion was that $9.5 million could realistically be raised for the construction of a new Catholic high school in Baldwin County. Based on these results, the Archdiocese purchased 40 acres of land on Dick Higbee Road near the intersection of Highways 181 and 104 in Fairhope. This location has been well received and has demonstrated the commitment of our families to support the new school. With three feeder schools in Baldwin county, St. Benedict in Elberta, St Patrick in Robertsdale and Christ the King in Daphne, St. Michael will be a natural extension of Catholic education for these families. In addition, it will provide that continuation of faith formation and development for all families in Baldwin County!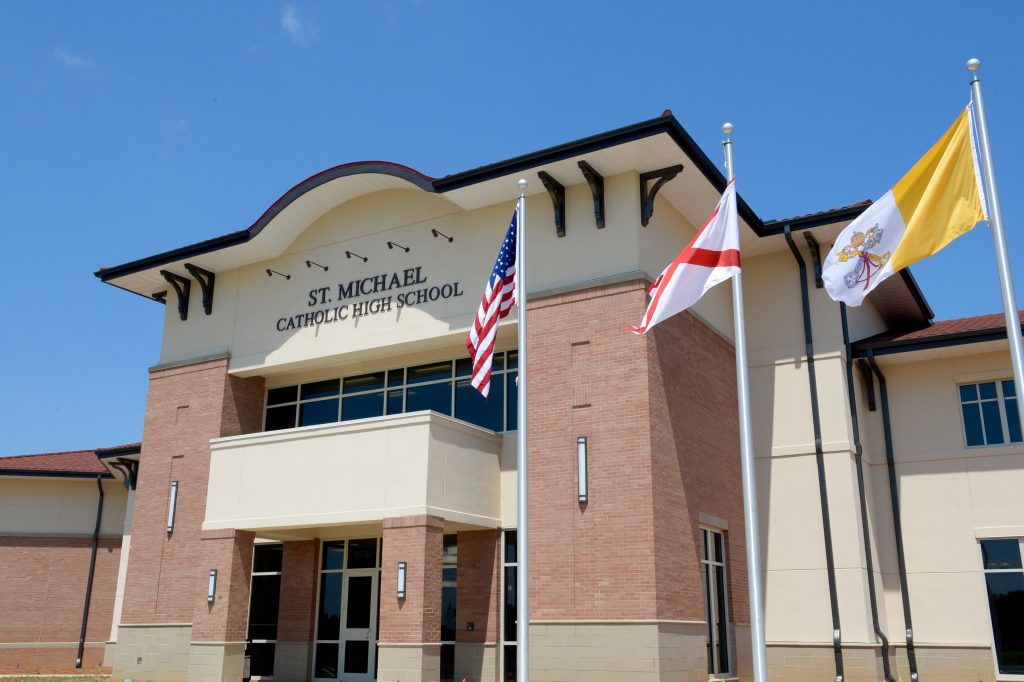 Archbishop Rodi chose the name "Michael" for three reasons: First in the Book of Revelations, it was St. Michael the Archangel who led the forces of good against evil in heaven. We want our students to be "leaders for good" in their homes, churches and the community. St. Michael is also mentioned in the scriptures of the three great religions: Christianity, Judaism, (Book of Daniel), and Islam (the Koran). We want to be a school that welcomes "people of all faiths, who desire an excellent education for their children, rooted in gospel values." Lastly, the name Michael honors Michael Portier the first Bishop of Mobile from 1829-1859.
The school staff will consist of twelve teaching faculty, who have a total of 208 year experience, or an average of 17.3 years per teacher. 83% of our teachers have advanced degrees, and all are Catholic! The building consists of 20 classrooms, a gymnasium, cafeteria, locker rooms, a media center, conference room, science lab and a small chapel. We are proud to have the latest technology in all these areas !
Our vision is a culture of forming great minds and great hearts to do great things! We want our students to stretch themselves in being called to holiness, going beyond their comfort zones in academics and extracurricular activities, and serving others and striving for excellence.