The following article is a reprint of Independence Today's magazine article, St. Michael teacher uses social media to connect classroom to the world by Laura Straub.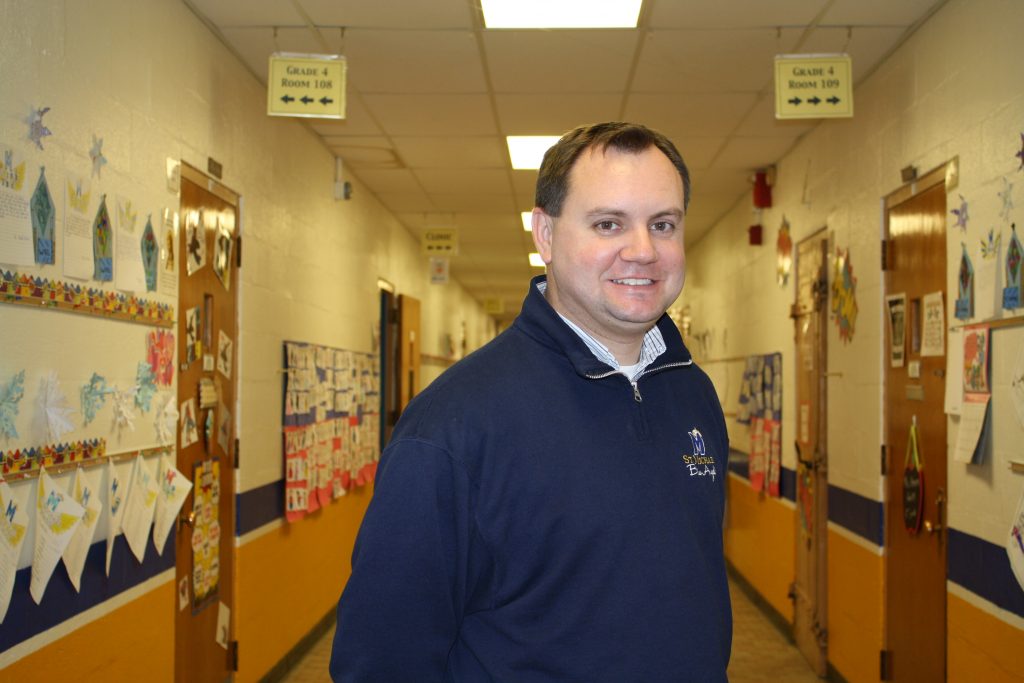 For St. Michael School teacher Adam Cottos, lessons aren't confined to his fifth- and sixth-grade classrooms. Through social media, Cottos is able to enrich his lessons with support from around the world.
Social media allows my classroom to extend beyond the four walls of our room to our community and farther," he said. "We are living in a global environment, and our classes need to see how connected we all are to each other.
Cottos first started using social media as a teaching resource about two years ago. "I joined a few Twitter chats based on education, and that allowed me to begin interacting with other educators from around the state and country, and they offered me ideas to use in my classroom," he said.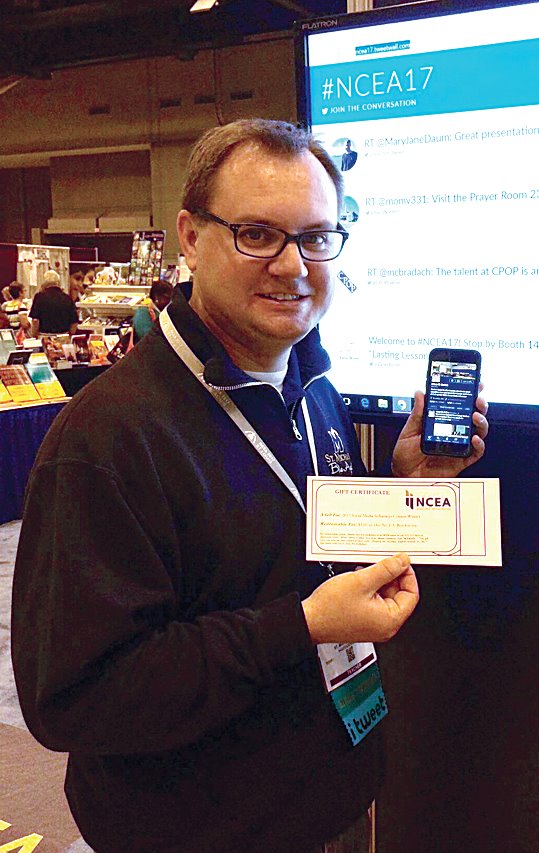 Today, Cottos has gone global. When he was teaching a lesson about Australia, he connected with teachers on the other side of the world. "I recently started talking through Twitter with a couple of teachers from Australia that are willing to assist in answering questions that my sixth-graders may have about Australia and the culture," he said.
Incorporating social media avenues like Twitter is more than just a means to connect with people, Cottos said. They also teach digital citizenship and proper use of online tools and resources.
Social media and distance learning also enable students to see places they may never have the opportunity to actually visit.
"I have taken students on virtual field trips to the British Museum and Mount Vernon, Va. Students may never have the opportunity to visit these locations in person, but through resources, our students are able to see these places," Cottos said. "It also brings the world into our classroom. When students see how the learning connects to them, they will take a greater interest in what they are learning."
He also uses social media to communicate closer to home. He's found that social media is an excellent way to give parents and community members a front row seat to what is happening in his classroom.
Our school has so many great stories to share of the wonderful activities and projects our students are working on, and these stories need to be told," he said. "When stories of activities of the day are shared through social media, parents are brought into the classroom because they are seeing the work their students are doing, which leads to conversations being started with their students. If parents see what their students are doing, the engagement between the two increases.
National recognition
The St. Michael's community isn't the only one recognizing Cottos' successful social media implementations. He was named winner of the National Catholic Educational Association (Official) Send a Teacher to NCEA 2017 Convention and Expo in the St. Louis Social Media Influencer contest.
"Winning the contest meant a lot to me. It made me realize that education is truly a community event," Cottos said. "Winning the contest also allowed me to connect with educators from all over, and share with them the great story that is St. Michael School. I was blessed to have had the opportunity to not only participate in the Social Media Influencer Contest, but to win as well."
The contest called on social media savvy Catholic educators to tweet, post, trend, blog and tag 10 different weekly messages from Sept. 26 through Dec. 5, 2016. The messages included everything from why choose Catholic education, to professional development for Catholic educators.
When it came down to posting for the contest, Cottos said that support from his colleagues and the St. Michael School community helped set him apart.
My fellow educators were wonderful assets who gladly shared their classrooms with me to allow me to share what they were doing, he said. I also was able to show how all parts of St. Michael School share the Catholic faith with our students. The community aspect of St. Michael School was very strong throughout the contest.
"I would also say that the students of St. Michael School also set me apart in the contest. Our students were very supportive of me. I was honored to share their stories."
After attending the conference, which took place April 18-20, Cottos is already looking toward next year's event.
"I am going to submit a proposal to present at the National Catholic Educational Association Convention in 2018," he said. "This would be a great opportunity for me to continue to show the work that St. Michael School is doing to promote the Catholic faith to our students and community."