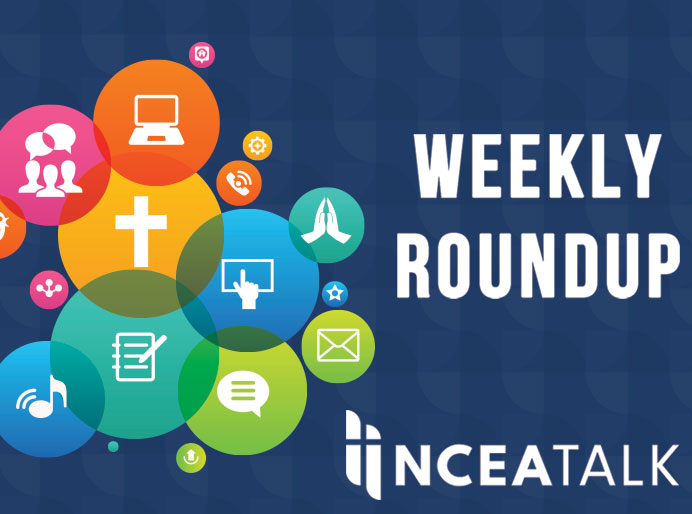 Didn't have the chance to check in with NCEA Talk each day? We've got you covered. Each Friday NCEA Talk will post a roundup of Catholic education news and resources from the week.
St. Michael teacher uses social media to connect classroom to the world
Diocese seeks to boost Catholic school enrollment
Best Boosts for Education That Works for Everyone
Mission and Catholic Identity in Our Schools
---
Catholic School Educators: Call to Discipleship
NCEA is pleased to share its new weekly reflection series "Catholic School Educators: Call to Discipleship" for the new liturgical year. This series shares reflections for educators contributed by Justin McClain, teacher at Bishop McNamara High School and author of Called to Teach: Daily Inspiration for Catholic Educators. The weekly reflections are a regular feature in our Friday Weekly Round Up blog posts on www.nceatalk.org – check back each Friday for a new weekly reflection.
Seventeenth Sunday in Ordinary Time – July 30, 2017
Gospel Reading: Matthew 13:44-52
"The kingdom of heaven is like a treasure buried in a field, which a person finds and hides again, and out of joy goes and sells all that he has and buys that field."
With modest incomes, Catholic school teachers and the word "treasure" do not frequently go hand-in-hand. However, of course, in this parable, Jesus is referring to the only type of treasure that matters: heavenly treasure. In a world of materialism, consumerism, and individualism in general, we have the responsibility and the privilege to show our students that the Good News of Jesus Christ is the greatest treasure imaginable.
What service opportunities can you encourage your students to participate in, so that they can better fathom that "it is more blessed to give than to receive" (Acts 20:35)?