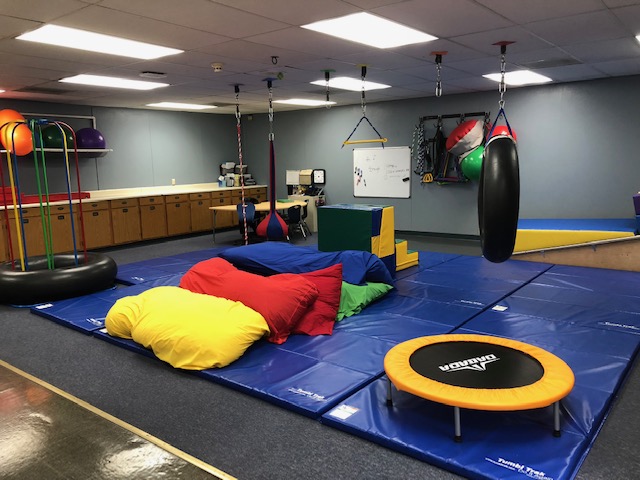 At Holy Family School our goal is to produce well rounded students by going beyond teaching the basics of reading, writing and math. We embrace the whole child as an individual learner as we provide them with the foundational skills to prepare them for high school and beyond. As the children's needs change each year, we adjust our services to reflect these needs and ensure our children are receiving the best education possible.
Many times children that struggle in school have issues that are not understood or addressed, these issues can get in the way of academic achievement, effect self-esteem and social interactions. Removing these barriers allows children to get the most out of their education. One way that Holy Family has addressed this is by incorporating Occupational Therapy (OT) into the classroom environments during the early education years. These formative years are when the brain is most plastic, ready for learning and adequate neurological development is critical.
The OT program at Holy Family has evolved over the past 10 years adapting to the needs of the school, each classroom and each individual child. Today, we have a full time occupational therapist providing services in classrooms and in our amazing on-site clinic.  In-classroom therapy is provided one hour per week, per grade, addressing handwriting, gross and fine motor skill development, visual/perceptual motor and sensory development. These skills are critical to the learning process.
The preschool and pre-k classes come to the onsite OT clinic in small groups and participate in sensory and motor experiences all while working on their acquisition of foundational skills necessary to support them for academic development.
In addition to the in-classroom and clinic services, individual OT sessions are also provided to children whose needs cannot be met within the classroom setting. Children are referred by their teacher or parent, a screening is conducted by the OT and then if recommended, a formal evaluation using clinical observations and standardized testing will be conducted. If therapy services are recommended, the child receives 1:1 therapy in our onsite clinic at a time that is optimal for both the child and teacher.
Our onsite OT also provides assistance with seating arrangements and adjustments ensuring each desk and chair are ergonomically correct for each student's body size. Holy Family has invested in a range of flexible seating options that provide extra movement throughout the day for those children who need it. The OT also provides consultation to the teachers for classroom management, accommodations and modifications.
Since adding OT to the curriculum we have contributed to helping children, no matter their ability or academic level, to feel confident in their abilities and flourish. The program has been a differentiator for our school as we are the only school in the diocese who offers this service. The program continues to be successful with identifying and assisting children who need extra help, educating parents and teachers and helping all students be more prepared for their futures. The best part is that the children look forward to it, request it and have fun!
To learn more about this topic, visit the links below, enjoy!
Is Your Child Positioned for School Success?
What Parents Need to Know About School-Based Occupational Therapy
The Pen Is Mightier Than the Keyboard: Advantages of Longhand Over LaptopNote Taking
---
Erica Davied is an Occupational Therapy Teacher at Holy Family School in San Jose, CA.