The following article was contributed by Ann Oro, Director of K12 Instructional Technology for the Roman Catholic Archdiocese of Newark.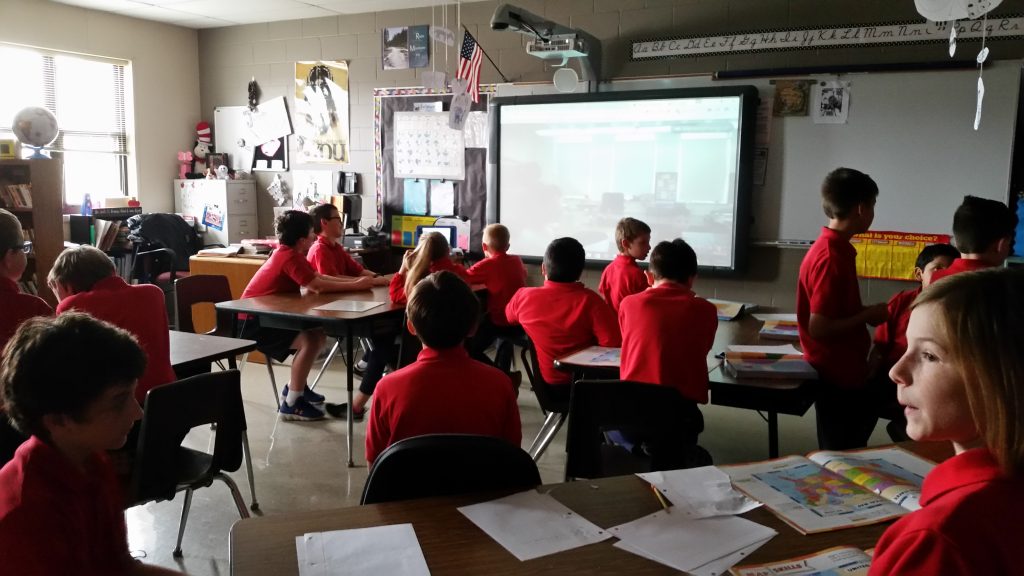 Imagine playing a game of twenty questions with your class and students from across the country or around the globe. One of the advantages to our connected world is the ability to use the Internet, a computer with a webcam, and a program like Skype or Google Hangouts to bring this idea into your classroom. Across all grade levels, there are social studies content standards to introduce students to the vocabulary of geography. Concepts such as hemisphere, state and country borders, or land and water formations become clues in a global game of twenty questions with Mystery Skype.
This is a technology integration idea that has been happening in classrooms for almost a decade. As the Director of K12 Instructional Technology in the Roman Catholic Archdiocese of Newark (RCAN) in New Jersey, I have the pleasure of creating a form that provides teachers with the ability to find other Catholic classrooms to try a Mystery Skype call and share what makes their Catholic school unique.
Skype Versus Google Hangouts
Skype and Google Hangouts are two different pieces of software that provide video conference call abilities. The tool you utilize depends on what is open for use on the Internet at your school and what is available in your partner's school. Both are free.
Step 1 – Join Us
Use the following link http://tinyurl.com/rcancontactform and complete the form to join the RCAN list. It is open to classes from PreK through twelfth grade. Within three days, you will receive an invitation to view the contact list online.
Step 2 – Teacher-to-Teacher Conversation
You may receive an email from one of the educators requesting a connection or you can send an email to a teacher on the list. You will both decide on a day and time to meet and a general plan for the call. In a traditional Mystery Skype, each class gives a brief introduction such as "we are a fifth grade class with 20 students." The classes take turns asking questions that can be answered with a yes or no. Once the classes guess the location, they can show their uniforms and share a school prayer or song. You may choose to do a test call teacher-to-teacher before working with the students to work out any technical issues. Some classes like to share a mystery book character or mystery saint instead of a location. There are many possibilities.
Step 3 – Prepare Your Students
Prepare the students for the mystery call by talking about the types of questions that might assist them in locating their partner. Paper maps can help the students to think about possible questions during the call. Sample questions include: Is your school in the northern hemisphere? Does your state/province touch water? Is your state/province near a mountain range? Students practice good digital citizenship by understanding that they are inviting another class into their class. They have to be good listeners and understand that it will be easier for the partner class to hear if one student at a time takes turns asking and answering questions. They may use Google Maps or Google Earth to support their search. Do not share any details about the partner class in advance so geographic skills are used.
Step 4 – The Day of the Call
Arrange the furniture to provide easy access to the computer controlling the call. In addition to the webcam, it can be helpful to have a microphone attached to the computer to prevent an echo. If both classes have permission, you can assign a student to act as photographer or videographer for the event. Your school might consider sharing the call with your community through the school's website or social media feeds. This is a great way to assist students with the International Society for Technology in Education (ISTE) Student Standard of Global Collaborator. You may find other opportunities to extend the collaboration including becoming traditional or digital pen pals or collaborating through online spaces such as Edmodo, Google Docs, or Google Classroom.