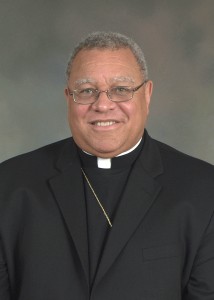 Bishop George V. Murry of the Diocese of Youngstown
has been named chairman of the
board of directors
of the National Catholic Educational Association (NCEA).  With his guidance, NCEA will continue its commitment to Catholic education and refocus its mission to lead, learn and proclaim.
"I am honored to have Bishop Murry succeed me as chair," said Archbishop Blase Cupich of Chicago, who has served as NCEA chairman since 2013. "The NCEA makes an invaluable contribution to the Church and this appointment is a good fit. Bishop Murry has been recognized for his exceptional leadership and commitment to Catholic education at all levels."
NCEA President Brother Robert Bimonte expressed gratitude to Bishop Murry for his willingness to serve as board chair. "Catholic education is facing both exciting and challenging times. Bishop Murry has a deep faith in the importance of Catholic education for students, families and communities. His vision will be a great gift to NCEA and its members."
In acknowledgement of his appointment, Bishop Murry shared, "I am honored to serve as board chair and support the mission of the National Catholic Educational Association. Catholic schools have made a tremendous contribution to the growth of the faith in the United States. It is my hope that together we will work to fortify our Catholic schools and recommit ourselves to the ongoing growth and development that is needed for present and future generations to thrive in the 21st century."
Bishop Murry has served as bishop of the Diocese of Youngstown since 2007. He was born in Camden, New Jersey, in 1948. After graduating from Catholic elementary and high schools, he attended St. Thomas Seminary in Bloomfield, Connecticut, and St. Mary's Seminary in Baltimore, Maryland, where he received a bachelor's degree in Philosophy in 1972. That same year he entered the Jesuits and was ordained a priest on June 9, 1979. He earned a Master's of Divinity degree from the Jesuit School of Theology at Berkeley in 1979 and a Ph.D. in American Cultural History from George Washington University in 1995.
Bishop Murry served on the faculty and was Dean of Student Activities at Gonzaga College High School, Washington, D.C., from 1974-1976. He was adjunct professor of American Studies at Georgetown University from 1986-1990, and president of Archbishop Carroll High School in Washington, D.C., from 1989-1994. He was named Associate Vice President for Academic Affairs at the University of Detroit in 1994.
Pope John Paul II appointed him Auxiliary Bishop of Chicago where he was ordained to the episcopacy in 1995. John Paul II appointed him Bishop of St. Thomas in the United States Virgin Islands in 1998, and in 2007, Pope Benedict appointed him the fifth Bishop of Youngstown.
Bishop Murry has served on numerous boards including the University of Detroit and Loyola Academy, St. Joseph's University in Philadelphia, Mount St. Mary's College in Maryland, and Loyola University in Chicago. Presently, he is a member of the board of Fairfield University in Connecticut, Walsh University in Ohio and the Butler Museum of American Art in Youngstown, Ohio. He also serves on the Ohio Governor's Task Force on Community-Police Relations.
Bishop Murry will begin his term in April 2015 and will meet with members at NCEA's Convention & Expo in Orlando on April 7-9.