This post was first published on the NCEA Religious Education newsfeed by Mickie Abatemarco, Associate Executive Director of the NCEA Religious Education Department.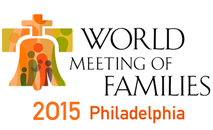 "When families bring children into the world, train them in faith and sound values, and teach them to contribute to society, they become a blessing in our world.  Families can become a blessing for all of humanity!  God's love becomes present and active by the way we love and by the good works that we do.  We extend Christ's kingdom in this world.  And in doing this, we prove faithful to the prophetic mission which we have received in baptism." Pope Francis, Meeting with Families, Manila, January 16, 2015

The Eighth World Meeting of Families will take place in Philadelphia September 22-27, 2015. Held every three years and sponsored by the Holy See's Pontifical Council for the Family, the World Meeting of Families is the world's largest Catholic gathering of families. Each World Meeting of Families has a theme that energizes and enlivens the event while adding great depth of meaning to our understanding of families. The theme of the World Meeting of Families – Philadelphia 2015 is "Love Is Our Mission: The Family Fully Alive," emphasizing the impact of the love and life of families on our society.
There are many ways that parishes/schools can participate in this event.  The World Meeting on Families website offers opportunities for catechesis at all grade levels as well as a prayer for the family.  There are also opportunities for the parish family to participate in this event.
If there is a possibility to plan a family trip around The World Meeting of Families event imagine what this experience could mean to your family.  An opportunity to share your lives as a Catholic family with others from around the world and to participate in Sunday Mass, on September 27, celebrated by Pope Francis. Click to register online.
Don't pass up the opportunity to participate in this event in any way you can.  It will be an experience you will not forget.