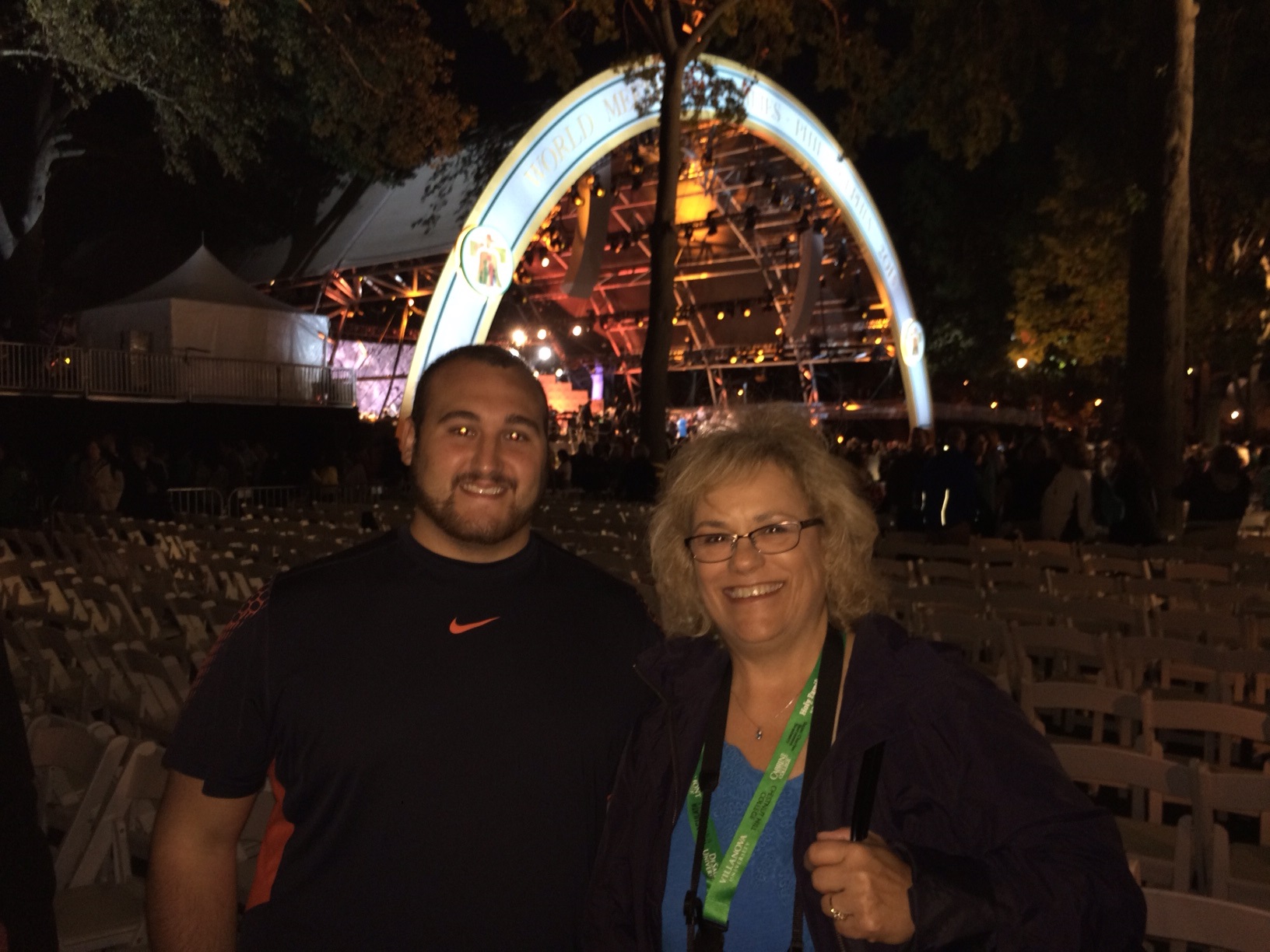 (NCEA's Social Media Coordinator Ryan Lombardozzi (Left) & Director of Professional Development, Pam Bernards (right) at the Festival of Families in Philadelphia!)
This post was prepared by NCEA's Director of Professional Development, Pam Bernards.
Words cannot express how exciting it was to attend the Festival of Families and be among the hundreds of thousands who journeyed from points around the globe to see Pope Francis in Philadelphia! It was a great finish to what had already been an amazing week representing NCEA at the World Meeting of Families.
Navigating the many road blocks and checkpoints made the journey to the main stage area on The Benjamin Franklin Parkway quite the adventure. Many steps were walked that day; in excess of 24,000 to be exact! The site; however, was something to behold. Innumerable jumbotrons projecting television coverage of Pope Francis were scattered throughout Independence Mall and along the Parkway. Stopping along the way to catch a glimpse of where the Holy Father was on his journey only added to the excitement and anticipation of seeing him. There was even a bride and groom adorned with their wedding attire, standing in the middle of the fray hoping Pope Francis might see them and bless their marriage.
Upon arriving at our seats, we knew how blessed we were to be so close to the main stage area. The evening, hosted by Mark Wahlberg, included inspiring testimonials from six families about the struggles and triumphs of family life, with a message of hope as a consistent theme. We were treated to performances by greats such as Andrea Bocelli, Aretha Franklin, and Jim Gaffigan. Of course, the highlight of the evening was seeing and hearing Pope Francis in person. It was one of those moments when you want to pinch yourself to make sure you are not dreaming. Seeing and being a part of the tapestry of people gathered for this special event was an awe-inspiring, once in a lifetime experience.