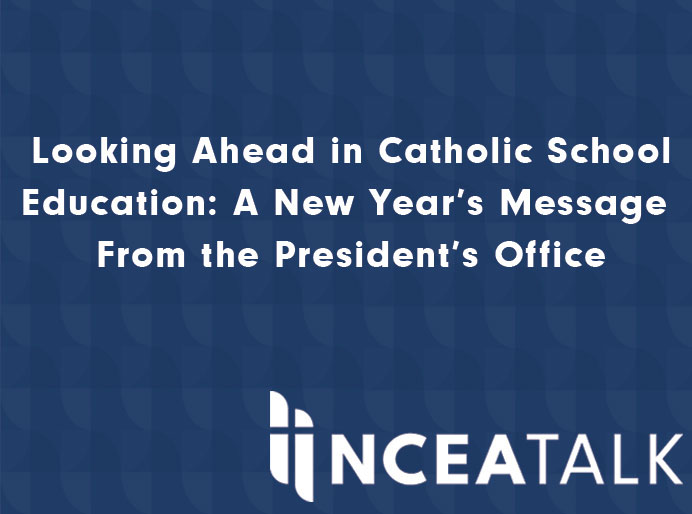 A New Year's Message from Dr. Thomas Burnford, Interim President
Beginnings, like the new year, always seem to imply a fresh start. I am pleased to begin this year with my own new opportunity – to lead NCEA in its work to lead, learn and proclaim, to serve and meet the needs of you, our members.
While Catholic Schools are in the middle of the academic year, the newness of the calendar year provides an opportunity for us all to think about the big picture of Catholic school education in the United States.  Things on my mind at this time include:
How can we build enrollments in Catholic Schools across the country by telling the story of excellent academics, safe schools, and faith formation throughout the entire life of the school? How can we tell this story in a way that connects our schools, as Catholic schools, to every person in the United States?
What will 2016 bring in terms of the growth of school choice for families, especially real choice in which tax funds follow families to the school of their choice? How do we address funding issues?
At the heart of Catholic schools are great teachers, principals and superintendents.  What are the best practices (and how can we share them nationally) for initial and ongoing formation in Catholic identity for our dedicated teachers and leaders? How do we retain our leaders and at the same time do effective succession planning?
I look forward to delving deeper into these big picture topics and the year of opportunity ahead for Catholic school education. On behalf of the NCEA Board of Directors, staff and myself, thank you for your membership and support. If you have ideas, or just want to chat, please call me at 571-257-0010 or e-mail me at tburnford@ncea.org.
Sincerely in Christ,
Tom
Thomas W. Burnford, D.Min.
Interim President
PS – See you in San Diego, March 29-31 for the NCEA Convention & Expo!
---
Be a part of NCEA's New Year Bucket List!
NCEA has many exciting learning resources, professional development opportunities and events to help you round out this academic year and prepare ahead for the next! As we look ahead, we hope you will join us in completing the following NCEA New Year Bucket List!