This post was contributed by Gail Ritchie, Principal of the Academy of Saint Paul.
The Academy of Saint Paul has been designated as a 2015 National Blue Ribbon School by the U.S. Department of Education. The award based on student achievement certifies that results on standardized tests are in the top 15% in the nation.  The National Blue Ribbon Schools Program recognizes public and private elementary, middle, and high schools based on their overall academic excellence or their progress in closing achievement gaps. Every year the U. S. Department of Education celebrates great American schools that demonstrate that all students can be successful.
Attaining Blue Ribbon status has been a strategic goal for our school, said Mrs. Gail Ritchie, Principal. I applaud the teamwork of our entire school community in realizing this important distinction.
–
The Academy of Saint Paul is a Middle States accredited Pre-Kindergarten through eighth grade Roman Catholic elementary school in Ramsey, New Jersey. It was founded in 1950 by the Sisters of Charity of Convent Station. The families served by the school come from twenty-three towns in New Jersey and New York from predominantly middle class backgrounds. Scholarship, spirituality, and service are the foundations of an Academy of Saint Paul education. The school has a rich tradition and strong reputation for developing excellent students who are well-rounded, confident, grounded in their faith and good citizens of the Church and world. This is evidenced by the successful Catholic high school acceptance rates and positive feedback regarding the scholastic preparedness.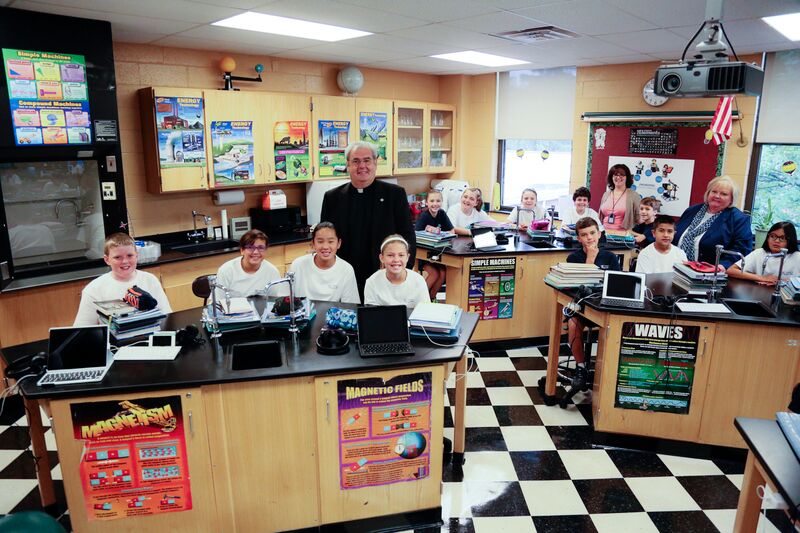 The mission of the Academy of Saint Paul is to provide students with both the educational tools and spiritual values needed to become productive, morally mature members of society. This mission includes a quality education based on the curriculum guidelines of the Archdiocese of Newark. The rigorous program of study includes the core subjects, Spanish, computer coding, STEM activities and enrichment. The administration and faculty is dedicated to educating the whole child, ever aware of individual needs and learning styles. Students are challenged, encouraged and supported to do their best through educational partnerships with family, school, and community to foster student success. Extra-curricular activities are also offered.
Continuous learning and meaningful professional development are pursued by faculty. Teachers model a spirit of volunteerism through involvement in activities that extend beyond daily responsibilities. Academic excellence is reflected by student accomplishments in various academic competitions. Of special note is the school's participation in the New Jersey Future City Competition, where students have placed among the Top Ten and Special Awards teams annually since 2008, achieving 5th place in the state of New Jersey in 2016.
For more information, visit www.academyofstpaul.org.