This post was contributed by Connie Taylor, NCEA Monarch Grant Program Teacher Leader.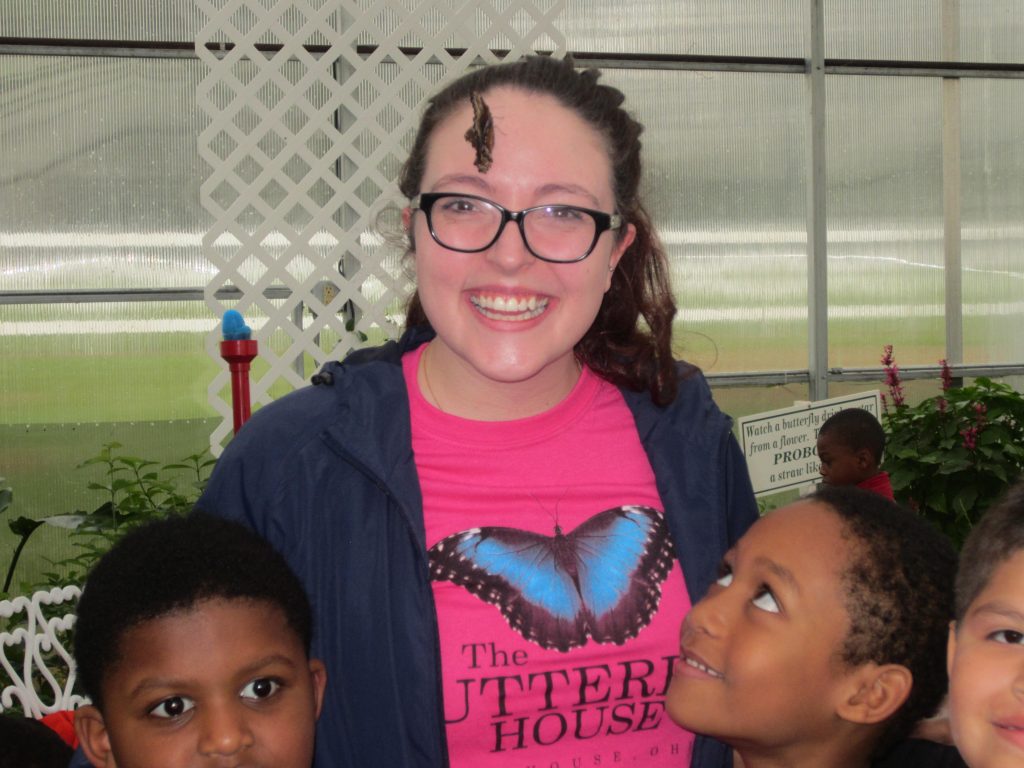 A highlight this month was our first and second grade field trip to "The Butterfly House" in Whitehouse, Ohio. Students were able to interact with various kinds of butterflies in the indoor garden area, view a chrysalis exhibit showing numerous emerging and recently emerged butterflies, make a butterfly lifecycle craft, and view a video on the preservation of milkweed and the monarch butterfly. It was a great experience for everyone, all thanks to the butterfly grant!
In addition, we have been busy performing our "Very Hungry Monarch Caterpillar" puppet show, featured in our educational video, for all the classes in our school. The first graders are becoming excellent actors and actresses with all this practice!
Our cup of painted lady butterflies arrived last week, and we watched each of them create their chrysalis this week. All five are currently resting in their butterfly habitat, as they dream of becoming a beautiful butterfly!
A cold, rainy spring, with a freeze warning this weekend in Northwest Ohio, hasn't provided us with great planting weather for our sensory garden and our annuals, but we are excited to see many of the native perennials planted in the monarch garden last spring are starting to poke up. First graders did some weeding this week and we are pretty sure we see about three milkweed plants coming up!
Learn more about Rosary Cathedral Catholic School's Monarch butterfly activities and more on Facebook and Twitter.
Rosary Cathedral Catholic School in Toledo, Ohio, is a two-time recipient of the NCEA Monarch Rescue Grant. Grantee schools will share monthly updates on their efforts in researching, planning, building, and maintaining the very best monarch-friendly butterfly gardens possible. They will monitor the success or failure of the garden, learning from problems they encounter to plan improvements in subsequent years. Most important, the developing learning modules will incorporate Catholic social teaching on stewardship of the resources God has provided us.
Follow the Monarch Butterfly conversation using #NCEAMonarch, search NCEA Talk using keyword Monarch Butterfly Rescue and view the Monarch Inspiration Gallery on Pinterest.