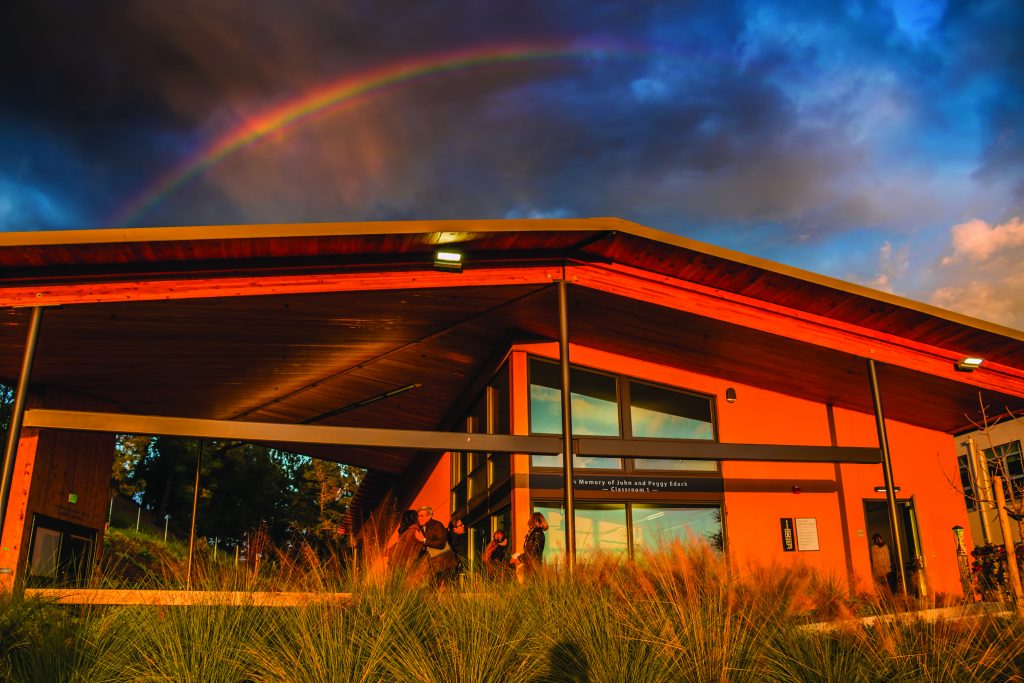 Bishop O'Dowd High School in Oakland, California is a Catholic, coeducational, college preparatory high school administered by the Diocese of Oakland, and is the only Catholic school to be awarded the 2016 Green Ribbon Award by the U.S. Department of Education.
As part of its mission to prepare skilled leaders committed to justice, peace, and the values of the Catholic Church, O'Dowd is committed to being a sustainable school, and has also been recognized as a California Green Ribbon School at the Gold Level (2015) and the Silver Level (2014).
Sustainability programs and initiatives at O'Dowd are built around a clear vision for what sustainability is, and how it connects to a Catholic identity. O'Dowd has adapted the Nested Triple Bottom Line framework to connect directly with its core values, which are rooted in charism …. Ultimately, O'Dowd's approach to sustainability aims to equip students with the tools, resources, and life experiences to create an environmentally sustainable, socially just, and economically viable world.
O'Dowd also utilizes the Four-Cs Sustainability Framework (adapted from the Sustainable Schools Project and Plymouth University) to guide their approach to greening the campus and operations, infusing sustainability into the curriculum and educational programming, engaging the community, and integrating sustainability into the overall culture.
Campus:  Greening of their facilities and operations.
Curriculum: Stepping out as leaders in the education for sustainability management.
Community: Engaging the internal community around sustainability topics, lifestyle choices and events as well as developing strategic and mutually beneficial partnerships that build a more sustainable community externally.
Institutional Culture: Mission – Charism – Graduation Outcomes – Decision Making – Sustainability Legacy
Brief Summary of Bishop O'Dowd High School's Achievements:
Despite having a long history of being committed to environmental education, with the 2013 hiring of the first full-time high school sustainability director in Northern California, O'Dowd's commitment to sustainability has become more tangible every year. Campus initiatives outlined in the 2014 Sustainability Management Plan (SMP) point to concrete examples of how O'Dowd has begun to shift behavior and culture so that students, faculty, and staff are able to "walk the talk" of sustainability each day.
The SMP identifies school-wide benchmarking, long- and short-term goals, implementation steps, evaluation metrics, and responsible parties. Energy is part of the SMP's Resource Conservation section, with a goal to be zero net energy by 2025. Currently, nearly 250 onsite solar panels meet approximately 10 percent of the energy demand. In 2015, O'Dowd partnered with Carbon Lighthouse to do a comprehensive energy audit and to create an energy action plan to be carbon neutral; the plan is scheduled to be implemented in 2016.
O'Dowd's Center for Environmental Studies, completed in 2014, is a LEED Platinum certified building. The campus also supports a four-acre "Living Lab" that has undergone ecological restoration annually since 2000, and has received Bay Friendly certification and Wildlife Habitat Certification. The Living Lab features four different local ecosystems—chaparral, oak woodland, redwood, and riparian pond zone—along with beehives, chickens and rabbits, edibles, and water catchment systems. It is used for field research, experiential learning, and spiritual meditation. The rainwater harvesting capacity at the school exceeds 25,000 gallons.
Large and small sustainability projects help O'Dowd reduce its ecological footprint, save money, and create lasting social change. The 2015-16 school year has been about moving beyond the low-hanging fruit (e.g., sorting waste correctly, implementing a green cleaning program, et cetera), and going after the harder-to-tackle objectives such as shifting purchasing habits and engraining sustainability decision-making into the smallest of renovation projects. Green Gloves, a 2015 partnership with Clean Water Action's ReThink Disposable project, replaced disposable plates and bowls in the cafeteria with reusable baskets, reducing solid waste by 3,376 pounds per year.
The commitment to weaving Education for Sustainability (EfS) throughout the O'Dowd curriculum also has begun to take form as the ninth grade curriculum transitions to taking a deeper look at sustainability topics and issues through the lens of multiple subject areas, and as teachers at multiple grade levels begin experimenting with different EfS techniques and topics. In 2013 and 2014, community engagement on sustainability topics and issues sometimes was met with resistance, but 2015 was a turning point in these efforts. More teachers and staff members have seen the rewards from transforming programs and curriculum and attendance by students and parents at sustainability-related activities and events has increased significantly.
All ninth graders at O'Dowd take a course called Science and the Environment, which is an interdisciplinary science course that teaches biology, physics, earth science, and chemistry through the lens of environmental science. O'Dowd's Sustainability Certificate Program has place-based environmental education at its core. Students do this hands-on learning in three different tracks: Community Impact Certificates are focused on initiatives on campus or in the greater Bay Area community; Living Lab Certificates make use of the four-acre Living Lab to establish a strong foundation in ecology and provide intense training, knowledge, and skills related to edible and wildlife gardening, animal husbandry, and resource systems; and Junior Ranger Certificates focus on students becoming well-versed in local hiking trails, basic wilderness and outdoor survival training, and wildlife restoration.
The O'Dowd school community has stepped forward eagerly to serve as leaders of a sustainable paradigm shift, and is excited to see what can be accomplished in the future.
You can find a full description of Bishop O'Dowd High School's accomplishments here: http://www2.ed.gov/programs/green-ribbon-schools/awards.html
For more information about Bishop O'Dowd High School, please read about them in our Fall 2015 issue of Momentum here: http://bit.ly/1WLSWpX
Save
Save
Save