This article was contributed by Ryan Lombardozzi, NCEA Social Media Coordinator.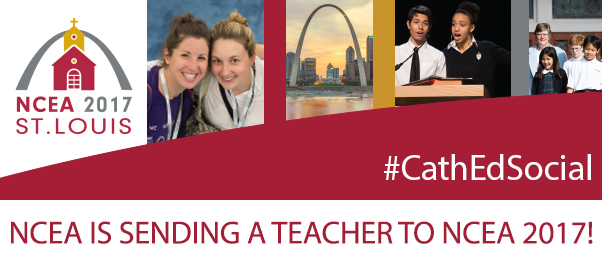 We are pleased to announce the participants of the Send A Teacher to NCEA 2017 Convention & Expo in St. Louis Social Media Influencer Contest!
Erin Galley: St. Cecelia Interparochial School – Diocese of St. Petersburg
John Rios: All saints Catholic academy – Diocese of Newark
Parker Whitehouse: Trinity High School – Archdiocese of Louisville
Cari White: St. Edward High School – Diocese of Cleveland
Kathi Stalzer: Ss. Simon & Jude Cathedral School – Diocese of Phoenix
Erin Whalen: St. Peter School – Diocese of Jefferson City
Adam Cottos: St. Michael School Independence – Diocese of Cleveland
Tia Warren: School of the Madeleine – Diocese of Oakland
Rachel Olmanson: St. Michael Catholic School – Archdiocese of St. Paul and Minneapolis
Kathy Kerchief: Immaculate Conception School – Diocese of Nashville
For a list of all social media handles being used, please click here!
Beginning Monday, September 26, NCEA will follow the progress of these individuals as they make their mark in the social realm of Catholic education. NCEA will provide a topic (provided below) for each week and they will use social media to share, engage and inspire the online community! NCEA hopes you will follow this year's participants and engage on social media with others to build a buzz around Catholic school education. Stay tuned next week for an update on all of the participant's social media handles to follow!
Week 1 (September 26): Why Choose Catholic Education?
Week 2: (October 3): Professional Development for Catholic Educators
Week 3: (October 10): Service in Catholic Schools
Week 4: (October 17): Catholic Schools: Communities of Faith, Knowledge and Service
Week 5: (October 24): STREAM
Week 6: (October 31): Exceptional Learning in Catholic Schools
Week 7: (November 7): Professional Learning Networks for Catholic Educators
Week 8: (November 14): NCEA 2017: Convention and Expo – Prelim. Sessions of Interest
Thanksgiving Break: November 21 – 25: No Posts
Week 9: (November 28): Leadership in Catholic Schools
Week 10: (December 5): Catholic Identity
Good luck!