Join us on Wednesday, November 2 at 2 p.m. EST for the Time in a Bottle: Using Classroom Technology to Save Your Teachers' Time and Sanity webinar!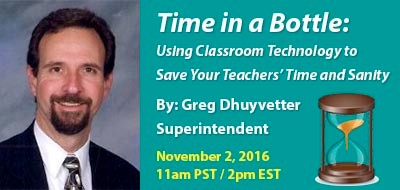 Webinar Description:
Teaching is hard! And the challenge of integrating digital tools sometimes feels like an anchor pulling us down instead of a motor to propel us. But it doesn't have to be this way.  In this presentation we will explore 10 tools and strategies to reduce, simplify, and streamline learning with digital tools while increasing classroom effectiveness for teachers and students.  Technology is designed to improve life, and with a few tips and tricks, it can!
Webinar Details:
Presented by: Greg Dhuyvetter, Superintendent of the Diocese of Orange
Date: Wednesday, November 2, 2016
Time: 2:00 p.m. EST
Are you available to make this webinar from 2-3pm EST on November 2, 2016? Register here!
     In partnership with:

This webinar is offered free of charge as an NCEA member benefit. All registrants will receive the recorded webinar and presentation files.