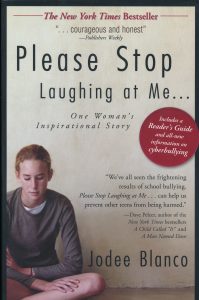 The 2017 NCEA Convention & Expo is almost here!  I feel like a little kid, counting down the days until my favorite event of the year!  Some of you may already know me from my books (Please Stop Laughing At Me…., Please Stop Laughing At Us….) or past NCEA conventions.  I'm a survivor of school bullying turned author and speaker, and I travel schools worldwide, telling my story to motivate change. I also have a follow-up curriculum that reinforces throughout the entire school year, my core messages of tolerance, forgiveness and compassion.
I'm excited and honored that the NCEA has asked me to speak again at this year's conference.  I hope you'll come to my talk.  It's entitled It's NOT Just Joking Around—Understanding School Bullying Through the Eyes of a Survivor.
As adults, we tend to see the world through a grown-up lens.  It's human nature that once we mature, our entire perspective changes, especially how we interpret the behavior of others.  While there's no substitute for life experiences, sometimes our adult logic can hinder instead of help our ability to reach a child in crisis.  At this year's presentation, I'm going to take you on a guided tour inside the heart and mind of the bullied child – the bully and the bystander.  You'll have a rare opportunity to know what they feel from their point of view.
If you've ever wondered what your students are thinking when you're actively addressing a bullying situation, what's happening inside their heads as you navigate whatever the circumstance may be, this workshop will give you the tools you need to think like that student.  I'll offer insight on all the things kids wished adults understood about bullying and fitting in, but are either afraid to communicate, or simply don't know how to express in words.
The content for this workshop comes from my own past as a victim of chronic bullying from fifth grade through high school.  It also comes from having held thousands of kids in my arms, seeking comfort and support.  Some of those kids were being brutally bullied and rejected by classmates; others were the bullies, misunderstood and crying out for help; and some were bystanders, riddled with guilt, paralyzed by fear of rejection themselves.
I want to take you inside, let you see bullying from their lens.  Kids know when a grown-up "gets it."  I promise, when you leave this workshop, you will have gained an understanding that may save a young life in ways you never expected.  I hope you'll come.  I'll be giving my talk in the Ferrara Theater on Wednesday, April 19th from 10:45am-noon.  Immediately afterwards, I'll be signing books in the NCEA Bookstore (NCEA Central) in the Expo Hall.
See you soon and God bless!
---
Survivor turned activist, Jodee Blanco is the author of four books on bullying, including the seminal New York Times bestseller Please Stop Laughing At Me…, required reading in middle and high schools across the country. She travels to schools, sharing her story to save lives, and has spoken to over a half-million people worldwide.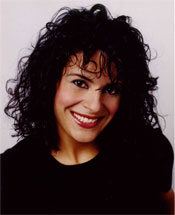 For books, seminars and additional information, please visit jodeeblanco.com.