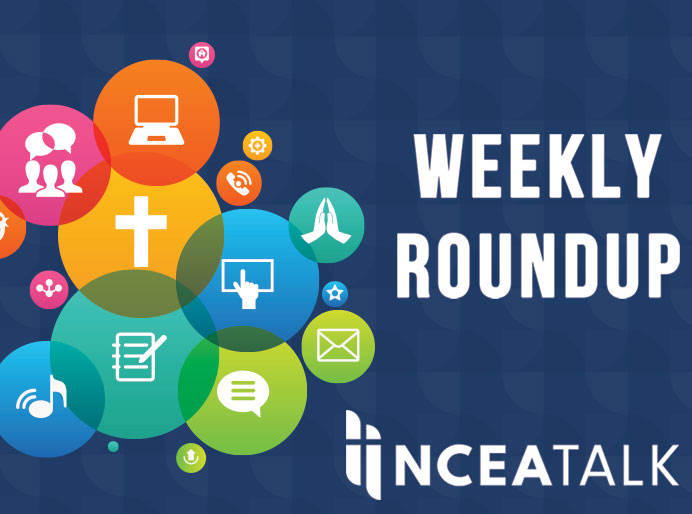 Didn't have the chance to check in with NCEA Talk each day? We've got you covered. Each Friday NCEA Talk will post a roundup of Catholic education news and resources from the week.
NCEA Monthly Feature School: Our Lady of Lourdes in Omaha, Nebraska
Maximizing MTSS through Effective Instructional Practices
Vision Without Traction Is Hallucination
---
Catholic School Educators: Call to Discipleship
NCEA is pleased to share its new weekly reflection series "Catholic School Educators: Call to Discipleship" for the new liturgical year. This series shares reflections for educators contributed by Justin McClain, teacher at Bishop McNamara High School and author of Called to Teach: Daily Inspiration for Catholic Educators. The weekly reflections are a regular feature in our Friday Weekly Round Up blog posts on www.nceatalk.org – check back each Friday for a new weekly reflection.
Pentecost Sunday – June 4, 2017
Gospel Reading: John 20:19-23
"Jesus came and stood in their midst, and said to them, 'Peace be with you."
The end of the school year is nigh. This is not always the most "peaceful" time of year, either for students or their teachers (let alone their parents). We are in the midst of end-of-the-year assignments, final examinations, and other pressing expectations. However, what an opportune time to recall that peace does not occur in a vacuum; rather, it is Jesus who gives us true peace. Remind your students to find peace and quiet in the midst of this busy time of year.
What are you doing to remind your students to remember the "big picture" of what they have learned this academic year?