The following article was contributed by the Catholic Relief Services.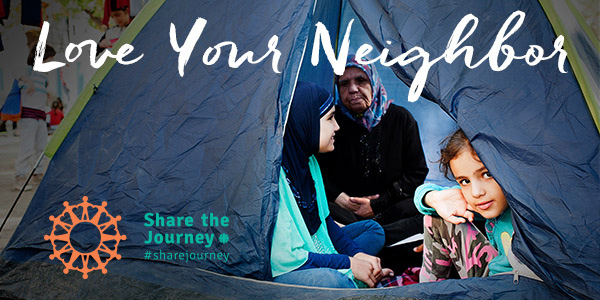 Let Pope Francis and our brothers and sisters around the world know you heard the call to reach out and love your neighbors by being part of the Share the Journey campaign.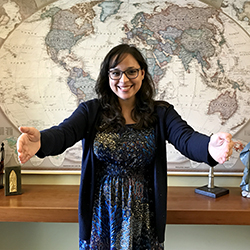 On or after September 27, on Facebook, Twitter or Instagram, simply post a photo of yourself and/or your staff reaching out to migrants and refugees (see photo example on the right) with the hashtag #ShareJourney.Here's a reminder of what you can do to help build a social media wave starting tomorrow.
Or if you prefer, post this graphic instead of a photo. Posting a photo or the graphic shows your support for migrants and refugees by recognizing the challenges they face on their journeys. And be sure to ask your family, friends, colleagues, and other networks to post and take this campaign viral.
Here are some sample posts you can adapt:
Sample Tweets
[Insert I'm/We're] reaching out to migrants and refugees fleeing war, persecution and poverty. https://sharejourney.org #ShareJourney
[Insert I'm/We're] loving [my/our] neighbor by reaching out to migrants & refugees. Join [me/us]. https://sharejourney.org  #ShareJourney
Migrants & refugees shouldn't have to leave their homes to survive. Let's reach out w/ love & support. https://sharejourney.org  #ShareJourney
Reaching out is the first step in loving neighbors fleeing war, persecution and poverty. https://sharejourney.org #ShareJourney
Sample Facebook Post
Today [Insert I'm/we're] reaching out to show support for migrants and refugees fleeing war, gang violence, death threats, religious persecution, extreme poverty and more. Reach out and love your neighbor, too. Learn more, do more at https://sharejourney.org #ShareJourney
Sample Instagram Post
Today [Insert I'm/we're] reaching out to show support for migrants and refugees fleeing war, gang violence, death threats, religious persecution, extreme poverty and more. Reach out and love your neighbor, too. Learn more, do more at https://sharejourney.org #ShareJourney #LoveYourNeighbor #migrant #migrants #migrantrights #migrantworkers #migrantcrisis #refugee #refugees #refugeestories #peace