The following blog was submitted by Oriana Lot-McGregor, Parent and Advancement Coordinator at St. Ann Catholic School in Arlington, VA regarding a recent School visit by Sr. Pat McCormack, NCEA author.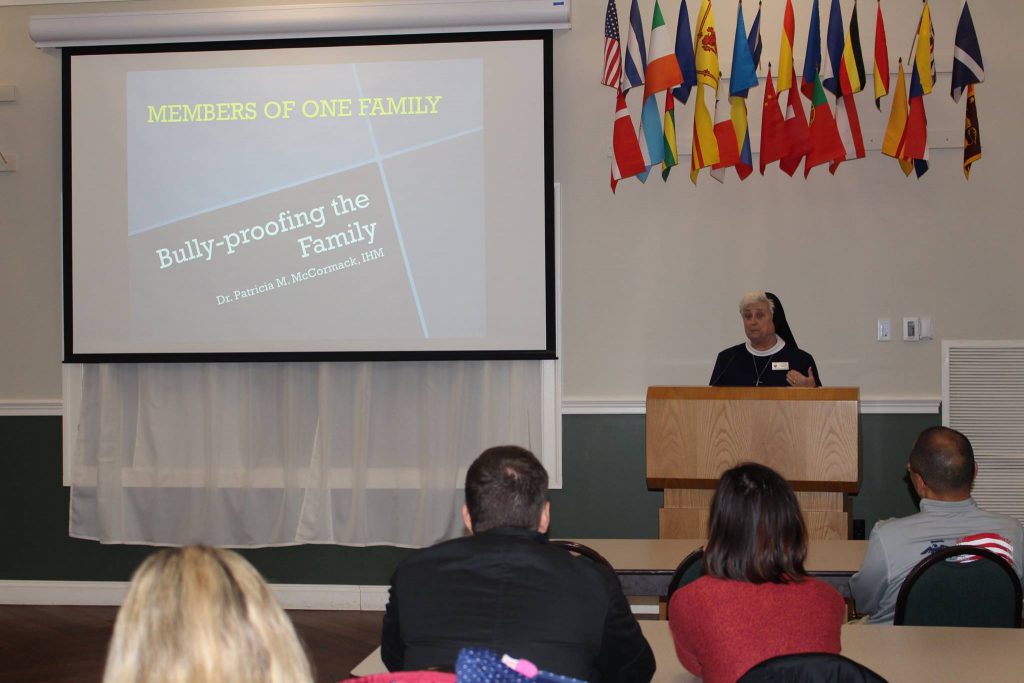 Saint Ann Catholic School students recently enjoyed a day with Sister Patricia M. McCormack, IHM. She is an international formation education consultant and is a member of the Servants of the Immaculate Heart of Mary in Immaculate, PA.
Sr. Patricia spoke at three student sessions and encouraged the kids to recognize their personal worth, dignity and inner strength as creations of God. When I asked my daughter about Sr. McCormack's talk she told me that Sr. admitted to having bullied a girl in the 7th grade. My daughter and I had a long discussion on what constituted bullying, the types of people who are hurt by bullying – victims, bullies and bystanders – and our role as Jesus' disciples to take action, speak out and stand up.
Sr. Patricia also spoke to Saint Ann parents. Her discussion on "Bully-proofing the Family" was informative, practical and insightful. She provided a definition of what bullying is:
Bullying is a deliberate and often repeated attempt to intimidate, embarrass or harm another person. Bullying is not "being left out of games, activities, put-downs and negative nicknames." Often parents feel like their child has to be invited to every play-date, birthday party and included in every game at recess. Sr. Patricia stressed that this isn't the way of the world.
The following are practical planning techniques on how to talk to the bully:
Using assertive and calm "I" statements – "Joe, it is mean of you to make fun of me. I want you to stop."
Ignoring or agreeing with the teaser – "Yeah, my shoes are weird looking but I like them."
Make fun of the teasing –  "You should hear what my mom says every time I wear these shoes."
Asking direct questions – "Why would you want to tell me something that might hurt my feelings?"
Using humor and even agreeing with the bully – "You're right! I am a book-worm, grades are important to me".
Lastly, Sr. Patricia stressed the importance of forgiveness. When we forgive we give ourselves the power to "let go" of the offense and the offender. To hold on to the grudge is to give power to the offender, which can impact our mind, body and soul.
She left me feeling empowered as a parent, with a plan that gave me the tools to deal with bullying. Bullying will always be a part of life, but with a little self-awareness, spiritual guidance and forgiveness we can diffuse its strength.