The following article was contributed by Mickie Abetemarco.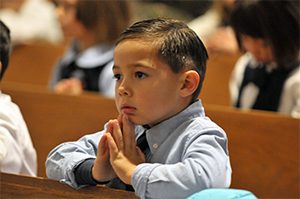 As a parent of four children who attended a parish school, I have fond memories of the role of the parish in their educational and faith journeys. The parish was a part of our family. We celebrated joys and sorrows together. Each first Friday of the month, the school would attend the parish morning Mass and every seventh and eighth grader was partnered with a pre-k or kindergarten student. They cared for their "buddy" and showed them how to participate in the Liturgy. The call to be more during a time in their lives when the focus was usually on themselves was a gift they would recognize as they grew.
It was September 11, 2001; our school laid under a reservoir that fed into New York City. I dropped my second grader and eighth grader off like any other morning – who would have known how much would change in the next few hours? As the towers were hit, concern was on everyone's mind. Our principal received a call that she had 10 minutes to evacuate the school and move the students to higher ground in case the dam was hit. She told the seventh and eighth graders to buddy with their kids and get them on the buses. The evacuation went smoothly and all were safe. A few weeks later, she told the older children how proud she was of them and that if anything happened again, they were to make sure they got everyone out safely. The students told her they would not leave without their buddies.
This is a story of family and faith. As we celebrate this Catholic Schools Week it is so important to recognize the role of the parish in our lives. Our children have the privilege to learn and live their faith every day. Celebrate your gifts, your mission and the family of believers with everyone in your parish. Shared with us your moments of grace as a parish community.
---
Catholic schools benefit all year long from the religious guidance, prayers and support parishes provide. Many parishes join in the National Catholic Schools Week celebration by devoting a Mass to Catholic education.