The following article was contributed by Sondra Morris, principal at St. Benedict at Auburndale High School in Cordova, TN.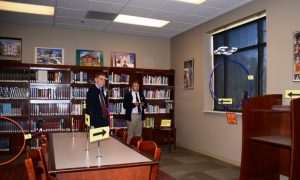 St. Benedict at Auburndale High School (SBA), a diocesan, coed, college preparatory school located in Cordova, TN has something for all students.  SBA offers a traditional academic program, but also offers Honors, Dual Enrollment, Advanced Placement classes (accepted as an AP Capstone School in 2017) and a PLUS program for students with learning differences.  For many students, once they declare a certain area of focus in high school, they are "all in" until graduation.  Not so at SBA – SBA has something for everyone.
Many view the four years of high school as a time each student must excel in all disciplines, and that is a very difficult task.  SBA strives to expose students to as many offerings as possible to enable them to discern God's plan for their life.  If you want to see an example, check out these local Memphis news stories about our program:
Last winter I attended The Effective Schools Conference, hosted by A+ Educators, and one of the workshops addressed making opportunities available to our students in a non-traditional classroom setting.  Woz U offers STEAM kits complete with everything necessary for the students as well as lesson plans. SBA decided to purchase both the Drone Kits and the 3-D Printer kits.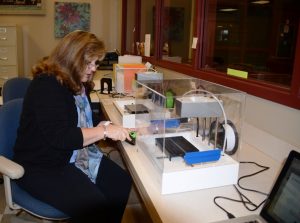 With the assistance of Mrs. Lisa DuFur, SBA Media Specialist, SBA students now have a 3-D printer and drone lab to visit either before school, after school or during their lunch period.  Many of the students taking advantage of this opportunity are involved in other school activities and do not have a class period to devote to an Engineering class or the Robotics Clubs.  After the basics were covered, the students were ready for more.  These students have designed an obstacle course within the media center allowing them to perfect their drone piloting skills.  The 3-D printer stations are also non-stop busy during those times.
We have witnessed our students working together to solve problems they encounter in the process – we see them communicating, collaborating and even interact in healthy competition.  They are learning first-hand that if the desired result is not acquired, they have to go back to the drawing board and see what they can do differently to achieve their goal.  Some of the lessons learned have come with some life lessons especially when the drone flies a bit off course and becomes tangled in a team member's hair or that team member who learns how to repair part of the drone when the obstacle course becomes the obstacle!
Mrs. DuFur did her research and found Brandon Turk, Mid-South Aerials, willing to assist us in our quest to bring Drones and 3-D Printing to SBA in an even bigger way.  Stay tuned!