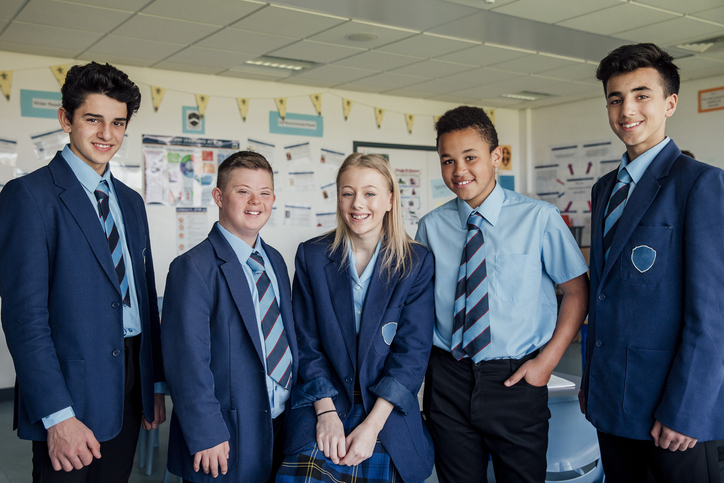 The following blog was contributed by Crystal Brooks, director of inclusion at Notre Dame Preparatory in Scottsdale, AZ, and Colleen McCoy-Cejka, Catholic school teacher, principal and assistant superintendent in the Archdiocese of Indianapolis and the Dioceses of Gary and Phoenix. Crystal and Colleen are the co-authors of Setting the Table: A Guide for Diversified Learner Program Development in Catholic Schools.
---
Does your school desire to be more inclusive but needs some guidance on how to create an environment for all learners? Does your school community understand the WHY but now needs direction on the HOW? If you answered yes, Setting the Table was created with you in mind. 
The Need for a Structured Approach to Inclusion
Keeping in mind that there most likely are already students in every school who have learning disabilities and a variety of challenges that impact their educational success, jumping in with those already in your care cannot wait. A deeper, more palpable awareness of a need to meet the needs of all students can drive the process of program development.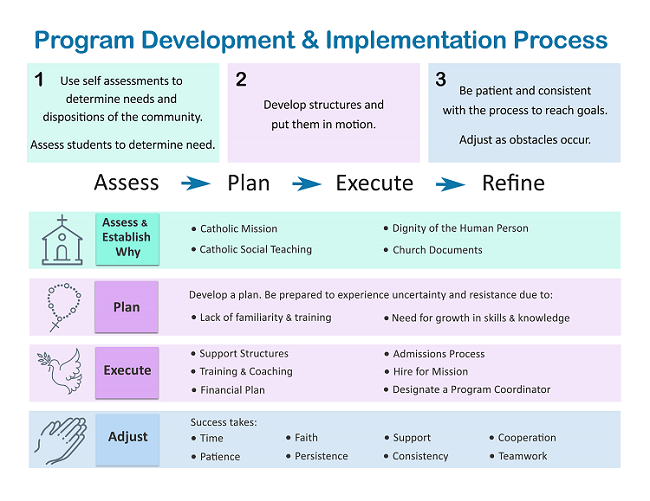 We Understand WHY, Now Tell us HOW!
Some time should be spent on educating your school community on the true mission of Catholic education. It is not unusual to encounter resistance on this issue. It is also quite common to learn that many Catholic educators are not familiar with Canon Law or specific teachings of the Catholic church on this topic. Establish why it is part of our privilege as Catholic educators to work toward inclusive practices. Once the WHY is established, the contents of this book can assist with HOW to make it happen.
Assessment of Knowledge, Skills, and Dispositions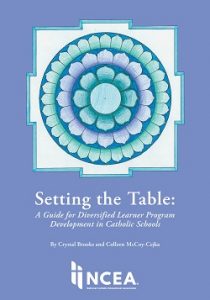 Setting the Table includes self-assessments of the knowledge, skills, and dispositions of those in the school community. The school leader armed with this data can use it to plan professional development and even inform hiring and admissions processes. This guidebook provides resources for gathering and using data to move the school forward.
Blueprint for Building: A Program Framework 
Where to Begin…
Once the need for a program is established among the community, the question becomes—How do we do it? Setting the Table provides a clear framework for program development, whether a school is starting from ground zero or has been randomly inclusive for some time. Thinking about all aspects of a program, from student identification to procedures, operations, and professional development, having a leveled guide to provide step-by-step guidance takes guesswork out of the process.
"As the Leader Goes, So Goes the People"
Development of an exceptional learner program takes dedication and passion, and the leader may need to climb a mountain if the situation calls for it.  The challenges that come with this project are unique. The hearts and minds of people you thought you knew well may be revealed in unexpected ways. As the leader, approach any change by first understanding the hurdles your faculty, staff, and general community will undergo through the process. Some of those hurdles will be learning challenges while others may be emotional hurdles.
When the opportunity arises to hire new teachers, intentionality in measuring each candidate's knowledge, skills, and dispositions with regard to exceptional learners must be part of the process. Guidance in this important area of building a school's culture is provided.
Implementation
Good intentions are not enough to affect change in a school. You could likely recall several programs and initiatives that were tried for a period of time and then discontinued for one reason or another. When you consider the time, resources, and funds used and perhaps ultimately wasted, an implementation plan should seem quite appealing. Your implementation plan will depend upon the program and level you identify with in the Program Framework and rubric.
Possibilities for Diocesan Level Leadership
While establishing culture and change occur at the school level, aspects of diocesan leadership can also help move the needle on inclusion. Each diocese is slightly different in its freedoms and limitations based on subsidiarity and size is also a significant factor. However, regardless of an arch/diocese's size or gauge of subsidiarity, top education leaders can make or break best practices in inclusion at the school level. 
Drawing Conclusions
There is too much evidence pointing to the benefits of inclusive education in schools to make it an option. Whether coming at this topic from a theological or mission perspective, or from a nut-and-bolts teaching and learning perspective, the benefits outweigh the drawbacks. Considering data, budgets, personnel, and a number of other elements are the pieces that make it all come together. Positive disposition is the starting point, but it is not enough. A guidebook to assist with consideration of all aspects of program development realities is now available to help educators navigate the process!