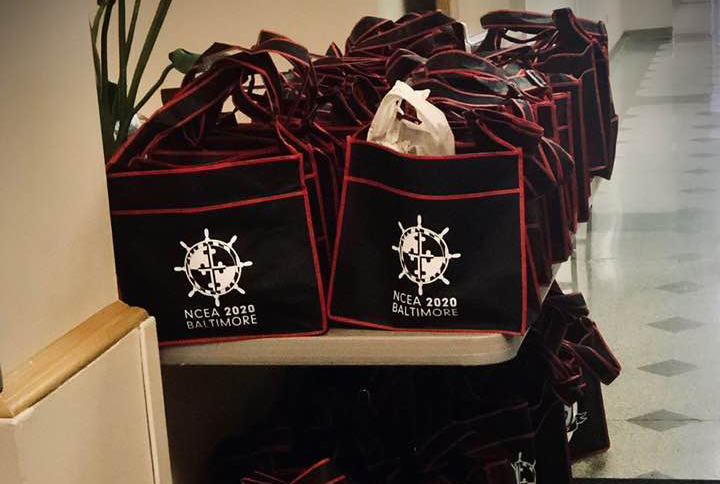 The following blog was contributed by Kathy Mears, Interim President/CEO at the National Catholic Educational Association (NCEA) in Arlington, VA. The Catholic Charities of the Archdiocese of Chicago filled unused bags from the cancelled NCEA 2020 Convention & Expo to take care of food distribution and the local shower program. Kathleen Donahue-Coia, acting president & CEO of Catholic Charities of the Archdiocese of Chicago, said the bags helped the immediate need for food and personal items for the increased numbers of clients in the Chicago area.
Some of the plans for the NCEA 2020 Convention & Expo couldn't be undone. The Chicago-based company Integra Graphics Synergy had already printed 4,000 Convention bags. What to do with them? The company generously offered to deliver the bags within a reasonable distance from their plant. Catholic Charities office in Gary, IN had a perfect use for the bags – food distribution. 
The onset of the pandemic stressed most food pantries around the country. Catholic Charities USA was no exception. While keeping the pantries full for the increased need in many communities, Catholic Charities also needed bags in which to pack the food. 
Starting with Patricia Cole and Jane Stenson of Catholic Charities USA, the offer of thousands of bags went out to the closest locations to Chicago. Joanne Pivarnik of Gary was able to accept one thousand bags to help with packing and delivering food. 
Other local Chicago area food pantries, soup kitchens and shelters were able to put the other bags to work.