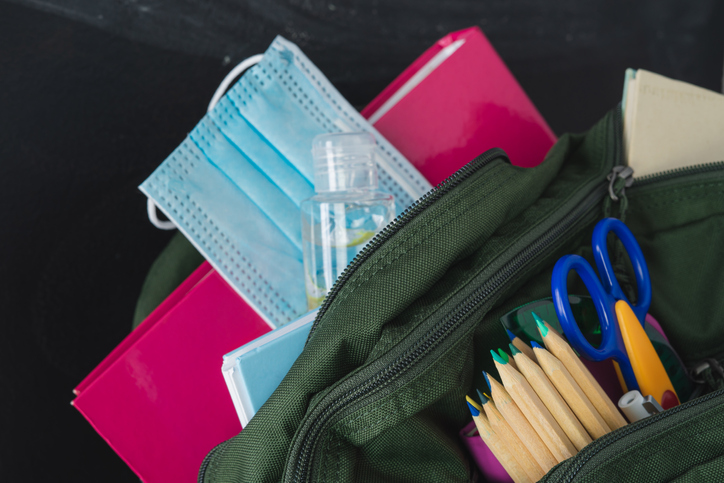 The following blog was contributed by Clare Kilbane, Ph.D., a faculty member at the McGrath Institute for Church Life at the University of Notre Dame. Follow her on Twitter @ClareRKilbane. This article was originally published on the McGrath Institute blog and is being offered here with permission from the publisher.
Going 'back to school' always involves a transition for families and educators, but this year it will be even more challenging. Families returning to traditional, in-person schooling will need extra face masks, hand sanitizer, and cleaning wipes, in addition to the usual school supplies and back-to-school clothing. Families transitioning to new modes of schooling—whether online instruction, homeschooling, or "pandemic pods" (i.e., education co-ops)—will need to develop new routines, practices, and relationships to make learning both effective and sustainable. And educators, regardless of who, where and how they will be teaching, will need both creativity and grit as they flexibly adapt to changing conditions when teaching and connecting with their students. Given all this, something everyone will need and benefit from taking back to school this year is hope.
Christian hope is not some vague, circumstantial belief that 'the future will be better than the past.' Rather, it is a virtue that combines a desire for something and the expectation that it will be received. More specifically, Christian hope is a desire for divine union with God and the expectation of eternal happiness through it. But we need not wait for this union if we practice hope now. Union with God can be experienced in the present and with increasing fullness, if we continually allow our words, actions, and selves to be conformed to and by divine love. Christians consider hope a virtue because it is an act of will—an intentional choice made to approach the events of our lives with a particular orientation. With hope, we can choose to view the upcoming 2020–2021 school year as an opportunity to grow in holiness—especially through our relationship with the source of our hope, Jesus Christ.
It helps to remember that we are the latest in a 2,000+ year succession of Christians who have endured suffering and prevailed through hope. I am reminded, in particular, of Blessed Basil Moreau, C.S.C., the founder of the Congregation of Holy Cross. Moreau put the motto "Ave crux, spes unica"—"Hail the cross, our only hope"—at the center of his community, founded in the aftermath of the French Revolution. In so doing, he ensured that the sisters, brothers, and priests of Holy Cross who founded schools around the world would form generations of students to approach their lives with hope, even to this day.
If faith illuminates one's experience of reality with an awareness of its design and purpose (e.g., a call to intimate and loving relationship with God), then hope is the lens that enables us to see beyond the Cross—to experience the invisible reality of God's love. When carrying hope along with the Cross, trust in God transforms suffering to joy. As St. Paul wrote, "I pray that God, the source of hope will fill you completely with joy and peace because you trust in him. Then you will overflow with confident hope through the power of the Holy Spirit (Romans 15:13)."
One way to take hope back to school is to meditate on the following questions each morning.
What particular struggles am I experiencing today?
Ask God to assist you in meeting these struggles with hope.


As I engage people, relationships, and events today, how can I more fully awaken the joy that comes from hope?
Ask God to open your heart to a greater, deeper trust in him.


How can I be a model of hope for others (my children, my students, my colleagues)?
Ask God for the gift of perseverance as you carry your cross, and for the grace to see beyond your struggles—to find in the Cross of Christ a sign of hope.
Hopefully, by returning often to these meditation questions, your experiences of the 2020–2021 school year—whatever those may be—can be transformative, not only educationally but also spiritually.