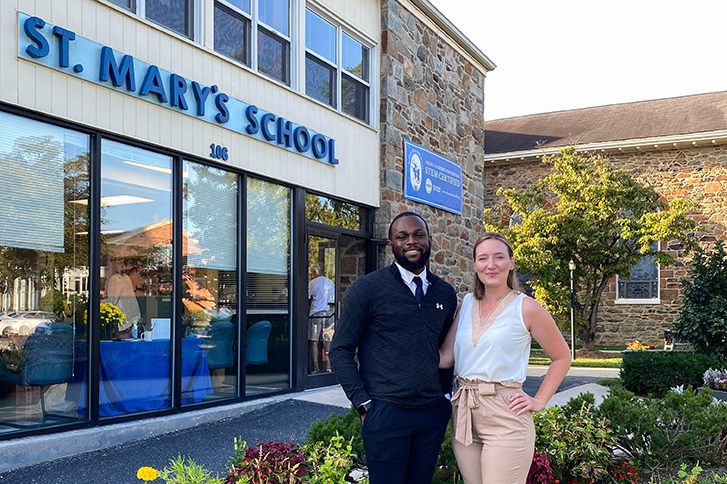 Dear Members:
Nearly all of our schools are back in session for the 2022 – 2023 school year, and many of you have marked that return with a celebration of something special in your community. You may be surprised to hear that our inboxes are not flooded with invitations to events at individual schools, so it was with great joy that I received a note from Ms. Lauren Casserly of St. Mary of the Mills School in Laurel, MD, a parochial school in the Archdiocese of Washington. St. Mary educates some 220 students, and this past Monday it celebrated the start of the school year with a celebration marking its recognition as an accredited STEM school, the first in the archdiocese.
I was blessed to have a front-row seat at a ceremony with a deservedly proud community in attendance. School principal Ms. Jennifer Castaneda gave me a tour of the new STEM lab before the ceremony, its accoutrement on par with the best such labs in the country, and its makeover from what had been library space a testimony to what a bit of elbow grease and community support can do. The students offering a demonstration of the lab were impressive, as were Ms. Casserly and her fellow STREAM coordinator, Mr. Derrick Harrell.
A Catholic high school president, Lorcan Barnes, one of my mentors, told me that his goal was always to make an improvement over the summer that would make returning families say, "wow," and one every five years that would make them say "WOW." The STEM lab and accreditation is a "WOW" moment for St Mary of the Mills, and I know that, at over 5,900 Catholic schools across this country, communities have worked hard to deliver such moments to their returning families.
Religious orders had cultures of continuous improvement woven into their fabric before Corporate America discovered that it was a thing, and lay men and women staffing our Catholic schools of today carry on that tradition. So, thank you, St. Mary of the Mills, for the invitation to share in your community's joy, and thank you to all of you doing things great and small to make your schools ever better places for your students. One of the great joys of NCEA is seeing that investment and growth, so please, share those stories with us so that we may share them with others.
Welcome back!
Peace,
Lincoln Snyder
NCEA President/CEO