The following blog was contributed by Cross Catholic Outreach. To add this service project to your school's outreach program, please click here.
How It Feels to Open a Box of Joy
Sadly, Christmas morning often arrives very differently in developing nations. There, impoverished children in remote communities may rise early like their U.S. brothers and sisters, but it is usually because they have to collect water from a distant source or get started on their other daily chores. Christmas is not a day marked by the arrival of bright boxes and pretty bows, because where poverty is extreme, gifts are luxuries few can afford.
It is estimated that at least 689 million people around the world live on less than $1.90 per day. Children in these poorest families will be glad just to have a little rice or stew to eat on Christmas Day. To them, the idea of receiving anything more — a soccer ball or lovely doll — seems like an impossible dream.
Since its beginning in 2014, however, Box of Joy has been working hard to make the impossible possible! Through this gift-giving ministry, U.S. Catholic parishes, schools, groups, families and individuals have united to bless 512,855 children with Christmas presents through the years. Now in its 10th season, Box of Joy is again working to touch young lives — and we look again to Catholic schools to pitch in and make this an unforgettable year for their students and for children in need!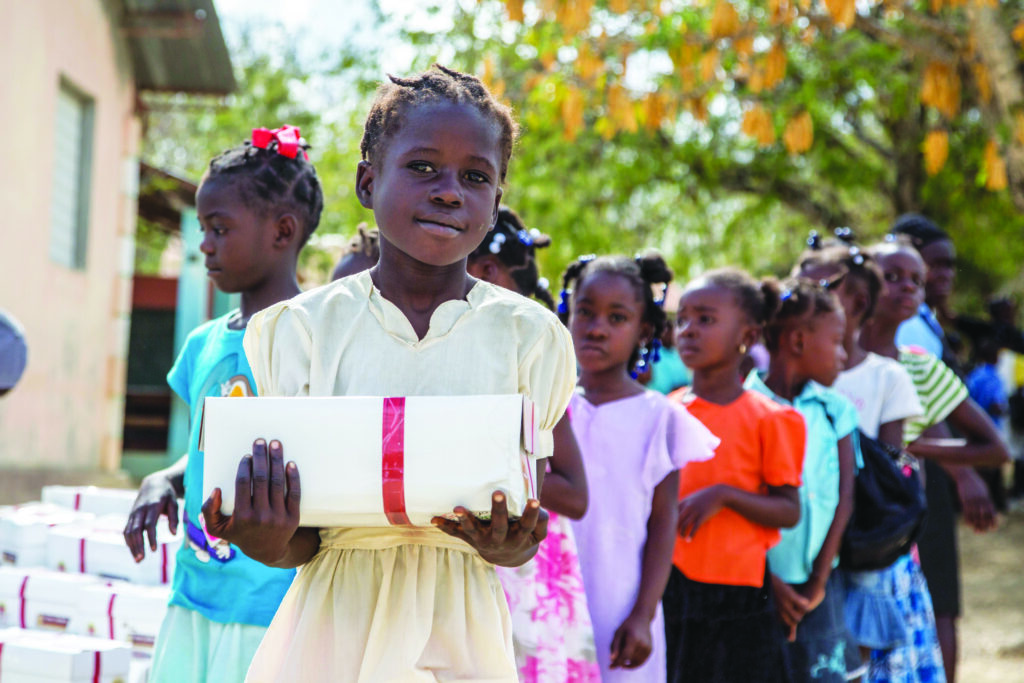 What's Inside a Box of Joy?
Box of Joy gifts are the size of a shoebox — but the joy they contain is immeasurable! When your school gets involved, its students and their parents are given the opportunity to lovingly pack these boxes. Each box is filled with items that may include:
Toys such as soccer balls, dolls, mini puzzles and jump ropes that bring delight.
Clothing such as socks, T-shirts and hats to keep the children warm and dry.
School supplies such as pencils and notepads to make sure boys and girls can achieve their dreams.
Every box also contains a rosary and The Story of Jesus, a small book printed in English, Spanish and Haitian Creole, that shares the Gospel message in an engaging and easy-to-understand way. Students may even choose to include personal notes, encouraging their school age peers a world away.
Altogether, the contents of a Box of Joy are fun, practical and encouraging. They can even have an eternal impact on souls! These special gifts — often distributed in Catholic schools dedicated to educating children in poverty — let boys and girls know they are abundantly loved by God and by his Church.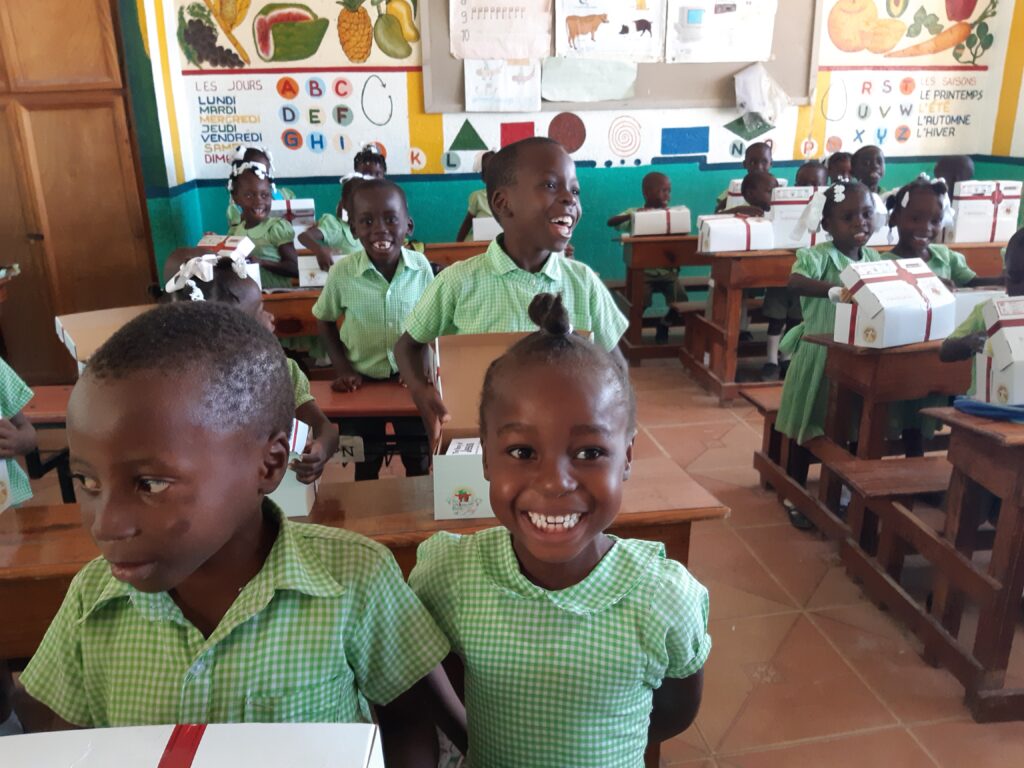 Mayra's Miracle: A Testimony of Joy
Sending a Box of Joy is a simple act of mercy that students of all ages can participate in — and it allows your students to experience the power of transformation and hope. When your students give generously, their peers in developing countries are reminded that God and their brothers and sisters of faith care deeply about them and want to bring them joy.
Little Mayra Ester Lopez is one of those children. She lives in the community of El Cielito near Cuilapa, Guatemala. Mayra's father is a migrant worker in a neighboring country, leaving Mayra with his brother's family in Guatemala. While Mayra knows her father is trying to provide a better life for her, she still misses him very much. She was sad when he was unable to come home for Christmas one year.
Then Mayra received a Box of Joy — and her sad expression broke into a beautiful smile! Now, when she remembers that special Christmas, her father's absence is not the only thing she recalls. She also remembers the amazing gifts she received and the kindness of the people who made that miracle possible. Our ministry partners in the local Diocese of Santa Rosa de Lima explained, "Little did [the children] imagine that in another part of the world, there was a group of people serving tirelessly to be able to send them a gift box that filled them with great joy."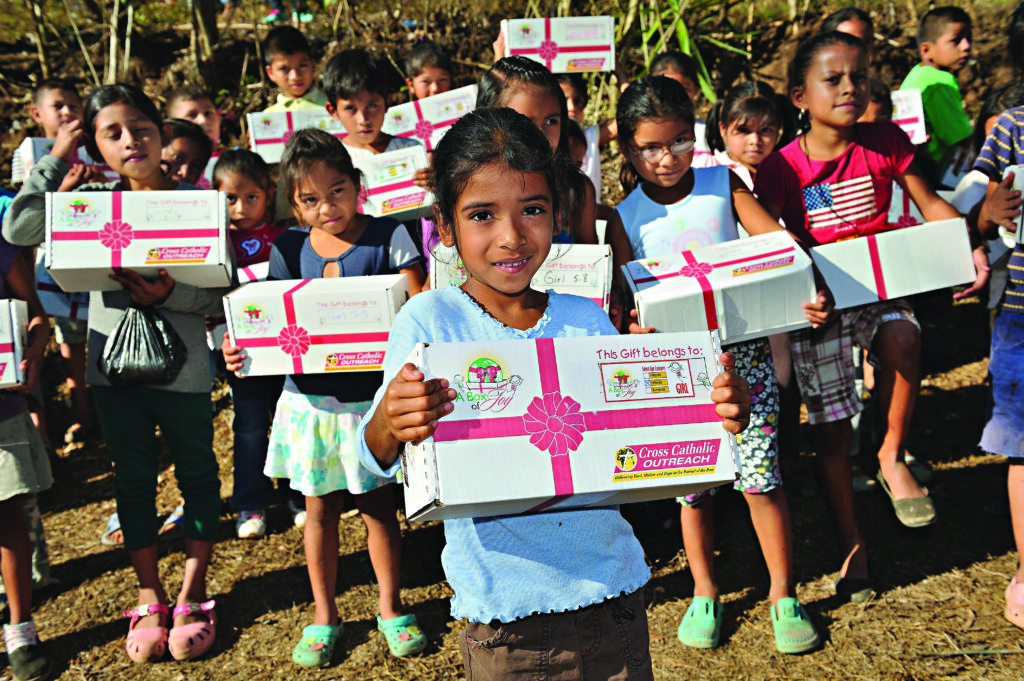 Help Make Box of Joy Possible
Box of Joy is an instrument of mercy God is using to touch young lives — and it is only possible because schools such as yours are willing to share their resources and engage their students in this gift-giving outreach to bless children like Mayra.
We are thrilled that so many Catholic educators and students have used Box of Joy to put their faith into action. Because they serve in various ways (packing boxes, delivering them to Drop-Off Centers, volunteering at our South Florida National Screening Center, etc.) we are able to ensure these lovingly packaged gifts reach boys and girls in the developing world.
For the schools that take part, the ministry serves as a wonderful and engaging extracurricular activity. It's the perfect way to involve the whole school in a service project, and it helps teach participating students the virtue of serving others in need.
Last year, schools helped us send Box of Joy gifts to 118,990 boys and girls in Latin America, the Caribbean and Africa. This year, we hope to reach even more needy children for the glory of God. We pray you will join the many schools that have already made this incredible work of mercy an annual school activity. Serving together, we can bless thousands more children this year!
Box of Joy is a registered trademark of Cross Catholic Outreach.