Written by Rev. Dennis H. Holtschneider, CM, president of the Association of Catholic Colleges and Universities.
A new national study identifies new governance models emerging in Catholic higher education stemming from the downsizing and aging of founding religious congregations in the U.S. For Catholic schools who also depend upon religious congregations for their sponsorship, these new models are worth noting.
To call themselves "Catholic," all works of the Church must have a formal connection to a recognized body of the Church, such as a parish, a bishop or a founding religious congregation. Those bodies or persons exercise oversight on behalf of the church to guarantee that the work is faithful to the Church's purposes, teachings and laws.
In the United States, religious congregations founded countless social ministries, hospitals and other health ministries and educational institutions and accepted this responsibility on behalf of the Church. They governed this in varied ways, but most often by holding seats and leadership roles on boards where such existed and reserving some powers over decisions that would affect the institution's mission.
Today, those religious congregations have less than a quarter of the members they had 50 years ago. Seventy percent of the remaining group is over 70 years of age. Within the next 10 years, the National Religious Retirement Office (NRRO) projects that numbers will almost cut in half again.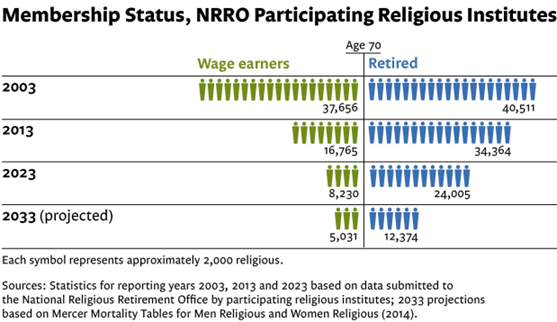 At universities, these religious are now either redefining their roles in ways that they can manage with smaller numbers or withdrawing altogether and asking the ministry to accept a new connection to the Church. 
Some congregations are removing the minimum numbers of religious that are required on their boards, lessening the numbers of decisions that are reserved to their consideration, removing age and term limits for religious so they can serve far into their advanced years and/or permitting others to serve in their place and act on their behalf.  Other congregations have hired representatives or even deputized entirely new offices to oversee their "sponsored works" on the religious' behalf.   Some congregations have stopped assigning members to the boards altogether and simply asked the works to mail them a report to the provincial councils, seeking any approvals or decisions that are required. 
Some have established elaborate written documents putting forth the expectations of the ministry if it is to remain "Franciscan" or "Dominican," for example.  In some cases, these are actual contracts.  In other cases, they resemble the standards and procedures of accreditation whereby a school must evaluate itself against those standards, set goals for the future and send those documents to the provincial for approval. 
In some cases, the religious are withdrawing entirely from any involvement whatsoever, asking their sponsored works to become non-Catholic and private in nature.  Others are directing them to seek another connection to the Church.  In these cases, the university might seek recognition as Catholic by a local bishop or even fully become a diocesan institution under the bishop's ownership and control.  Some are seeking sponsorship by another religious congregation, though that is difficult to find. 
Increasingly, replacement bodies for the religious are being set up under the Vatican Dicastery for Institutes of Consecrated Life and Societies of Apostolic Life.  Known as "Public Juridic Persons" using a canonical term, these bodies consist of religious and some laity who accept the responsibility from the Church to oversee the Catholicity and vibrancy of an institution's charism where such exists.  Catholic healthcare has used this model for some time now, but it is being newly adopted by Catholic universities. 
Whatever the emerging model, Catholic universities are attempting to design governance which helps them keep their faith life vibrant and their missions "on point" for the needs of the world and the Church's outreach to that world.  No one claims to have found the ideal approach, but everyone wants the heart of these institutions to remain for future generations. 
Governance is only part of the answer to that larger challenge, but the amount of change currently underway in the governance of Catholic universities is worth watching for institutions sponsored by religious in this country. 
The full study Relationship Reconsidered: Catholic Universities and Their Changing Governance Structures, by Rev. Dennis Holtschneider, CM, and Nadine Jalandoni, is published by the Association of Governing Boards (AGB) and the Association of Catholic Colleges and Universities (ACCU), and can be downloaded here.