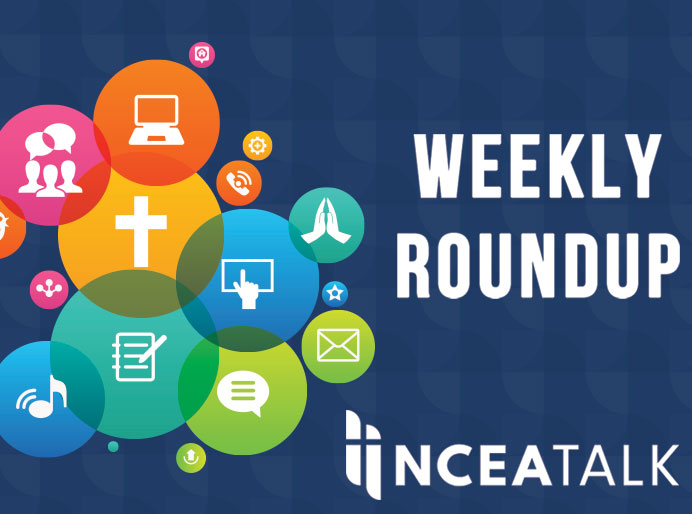 Didn't have the chance to check in with NCEA Talk each day? We've got you covered. Each Friday NCEA Talk will post a roundup of Catholic education news and resources from the week.
New Chemistry Labs Support Student Success
St. Thomas Aquinas Mass to Be Nationally Televised During Catholic Schools Week
Webinar: STREAM Live! Six Innovative Ideas & Tools to Jumpstart STREAM at Your School
Webinar: Amoris Laetitia: Engaging for Mission Part 2
The NCEA Executive Mentoring and Coaching Initiative
Webinar: Best Practices for Developing an Effective School Website
---
Catholic School Educators: Call to Discipleship
NCEA is pleased to share its new weekly reflection series "Catholic School Educators: Call to Discipleship" for the new liturgical year. This series shares reflections for educators contributed by Justin McClain, teacher at Bishop McNamara High School and author of Called to Teach: Daily Inspiration for Catholic Educators. The weekly reflections are a regular feature in our Friday Weekly Round Up blog posts on www.nceatalk.org – check back each Friday for a new weekly reflection.
Fourth Sunday in Ordinary Time – January 29, 2017
Gospel Reading: Matthew 5:1-12
"[Jesus] began to teach them, saying…"
This year's annual celebration of Catholic Schools Week will last from Sunday, January 29, through Saturday, February 4. What a unique opportunity to reflect on the Beatitudes (Matthew 5:3-12 (as compared to Luke's version [6:20-26]). The Beatitudes comprise the opening of Jesus' famous Sermon on the Mount (which spans chapters 5 through 7 of Matthew's Gospel, and is perhaps Jesus' most well-known sequence of moral teachings). Throughout Catholic Schools Week, reflect on ways in which you can encourage your students to live the Beatitudes, both now and in their promising futures as disciples of Christ.
After reading through the Beatitudes, which ones do you need to practice more in your daily life?