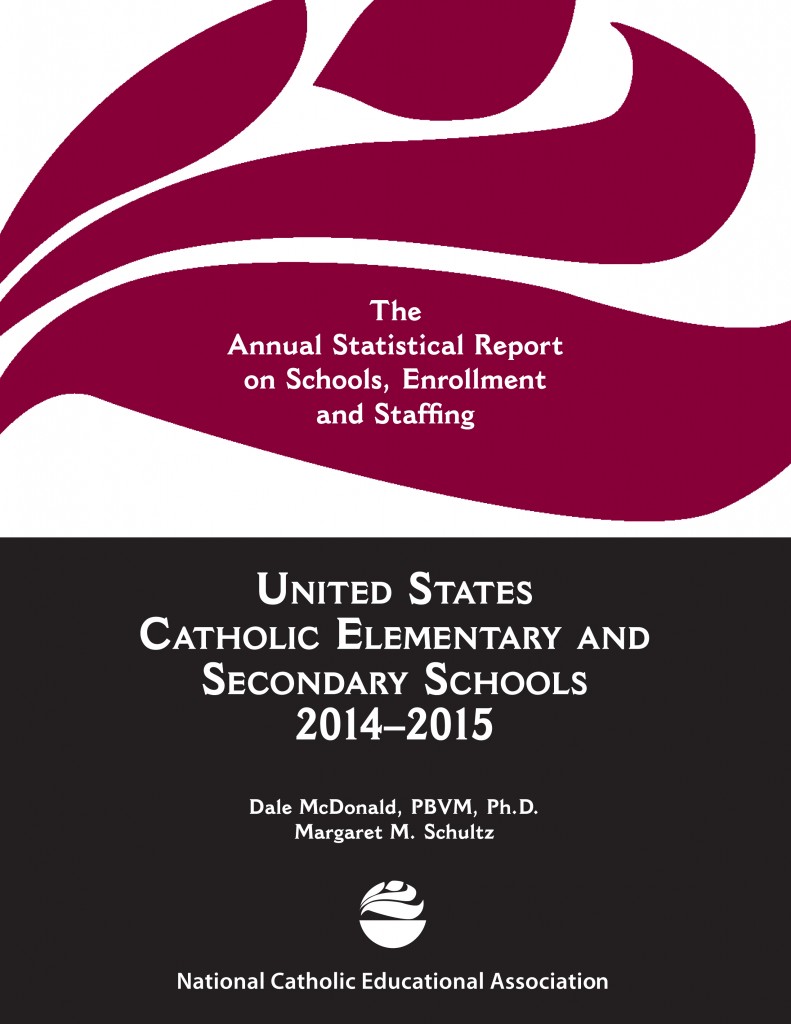 NCEA and the Diocese of Orlando held a press conference today at NCEA 2015 Convention & Expo to discuss the State of Catholic Education and provide an overview of NCEA's United States Catholic Elementary and Secondary Schools 2014-2015: Annual Statistical Report on Schools, Enrollment and Staffing.
NCEA President Brother Robert Bimonte started the conference by stating, "Catholic schools offer a faith based and faith filled education marked by academic excellence. We have a great deal of good news to tell. Catholic education has played a significant role for generations and continues to enrich the lives of individuals, the church and our society today. We are delighted to gather educators from across the world to connect, share ideas and embrace innovation as we look to the future."
Data for the Annual Statistical Report is collected by NCEA annually through the 106 arch/dioceses throughout the country. NCEA Public Policy & Research Director and co-author of the Annual Statistical Report, Sister Dale McDonald, BVM, Ph.D. gave highlights from the report, including enrollment trend data, the financial benefits that Catholic school choice provides the nation, the need to build new schools in growing areas, and the importance of parental school choice. . Sister Dale shares, "There are 6,568 Catholic schools in this country, 5,368 elementary schools and 1,200 secondary schools. Among the good news we share of our schools is that we are financially a gift to the nation when you consider the per pupil cost of $12,054. Our contribution is $24 billion savings each year to the nation."
NCEA Executive Vice President Patrick Lofton, spoke of the challenges and opportunities. "I think we sometimes we get caught up in the negative news of Catholic schools and we look at the challenges we face and don't see those as opportunities. Even in states with parental choice legislation, there are open seats."  Lofton continued by discussing the changing dynamic of Catholic education in Milwaukee and outlined the need to look at regional areas individual needs of growth and changes in culture and faith.
Henry Fortier, Secretary for Education/Superintendent of Catholic Schools, Diocese of Orlando shared the local Orlando news perspective. "Looking at the Glenmary Research Center statistical information on religion, we see that Florida's Catholic growth in the past 10 years has grown significantly. We have seen growth in our Catholic schools. Our population has continued to grow here in Orlando. Our five high schools are reaching capacity and developing wait lists. We have one of those good opportunities and good challenges here in Orlando on how we can meet the needs of our school and our community through education. The partnership with the parish integral. When you have the right mix of leadership it is imperative to the success of our Catholic education and school communities, working together in concert with pastors."
"We are talking about Catholic education – not education but Catholic education. We believe that parents are the first of educators in the ways of faith and church is part of that gift to help parents become better educators," shared Bishop John Noonan, Diocese of Orlando. "I think that Catholic education talks about the whole person: the heart and soul not just the mind. To reach that heart and soul is the gift of Catholic education. In my experience there is nothing better then opening up the heart and the whole person so that they see they are made in the image and likeness of God. Our world is a broken world and sometimes it is hard, we work to fix the mind but not the heart. Without Catholic education, what kind of future are we expecting to see in solving the world's problems?"
Noonan continued, "There are financial challenges, there is the challenge of reaching out to parents and connecting them with resources, there are challenges of showing that Catholic schools are not just for a small group but for everyone. If parents want their children to get into schools, they should have that opportunity. We need to not just make if affordable but accessible to all."
To download the audio coverage of the press briefing, please click here.
For more information and data on Catholic schools, please click here. To purchase a copy of United States Catholic Elementary and Secondary Schools 2014-2015: Annual Statistical Report on Schools, Enrollment and Staffing, please click here.
Press inquiries should be directed to Shannon Andrea, Director of Marketing Communications for NCEA at sandrea@ncea.org.