This post was contributed by Andrea Kopp, NCEA Educational Resource Manager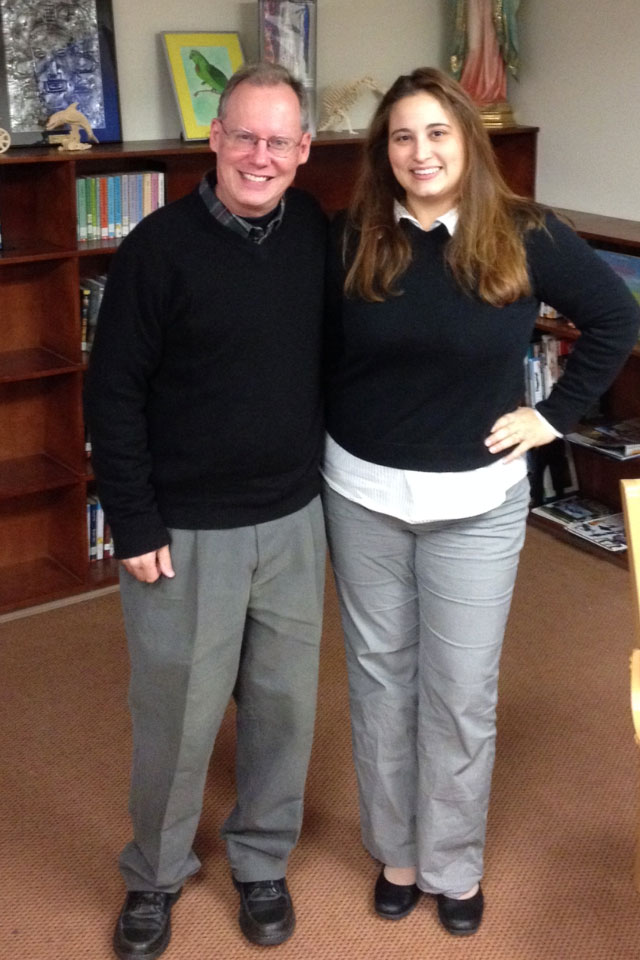 When Mr. Boss entered the seminary for the Congregation of the Resurrection, he didn't know his vocation would be teaching. After discerning the priesthood and realizing it was not where he was being called, he returned to his family in Panama City, FL when the pastor of St. John the Evangelist Parish asked him to help out in the parish school by teaching religion. He agreed, not knowing this was the beginning of a lifelong career in the classroom. When asked about his experiences as a first year teacher, Mr. Boss laughed and said,
I was a little surprised, because I thought everyone loved religion as much as I did. Some of the kids were more interested in surfing than religion.
Mr. Boss is a pillar of the community in Panama City, FL. One of his favorite things about teaching for so many years in the same school is seeing his students grow up and return to visit over the years. In 2012 he was nominated for a Golden Apple Teacher Award through the local news station and people whose lives he has touched locally, nationally and even internationally over the years, sent Mr. Boss letters of support and voted for him online. He was the first and only religion teacher to ever receive the award.
When asked what advice he has for new teachers, he offered the following wisdom:
1. "Put the Faith first! There is so much that goes on in the field of education and the teaching philosophy of the moment, but the kids can see if the Faith is important to you, both in and out of the classroom.
2. Realize that the Holy Spirit can be working in the life of a kid, even if it doesn't seem like you are connecting with them. Sometimes you can have a difficult time with a particular kid, you have to let that go and give them a clean slate. You never know what God is doing and you may not see the rewards until years later.
3. Try to keep your sense of humor; God knows you will need it.
4. Keep up with your personal prayer life. You can't give what you don't have.
5. I'm not always great at this one myself, but don't stress too much about changes in your school. I have lived through a lot of educational initiatives. Some of them stick and some of them don't. Just do your best."
Mr. Boss also added that he has had the privilege to work with many great colleagues over the years and emphasized the importance of teachers as examples of the Faith. "I have seen many students benefit from the example of faith set by their teachers. If a school does not put the Faith first, it shows. Any school can have uniforms and adopt the latest educational trends. The Faith will always endure and is always our first mission. Catholic schools are vital in building the future of the Church.
Mr. Boss teaches middle school religion and social studies at St. John the Evangelist Catholic School in Panama City, FL. Despite his 34 years of service, he has no plans to retire. He concluded this interview by saying, "I will be here for as long as Our Lord and Our Lady want me here."