This post was contributed by Shannon Andrea, Director of Marketing Communications at NCEA.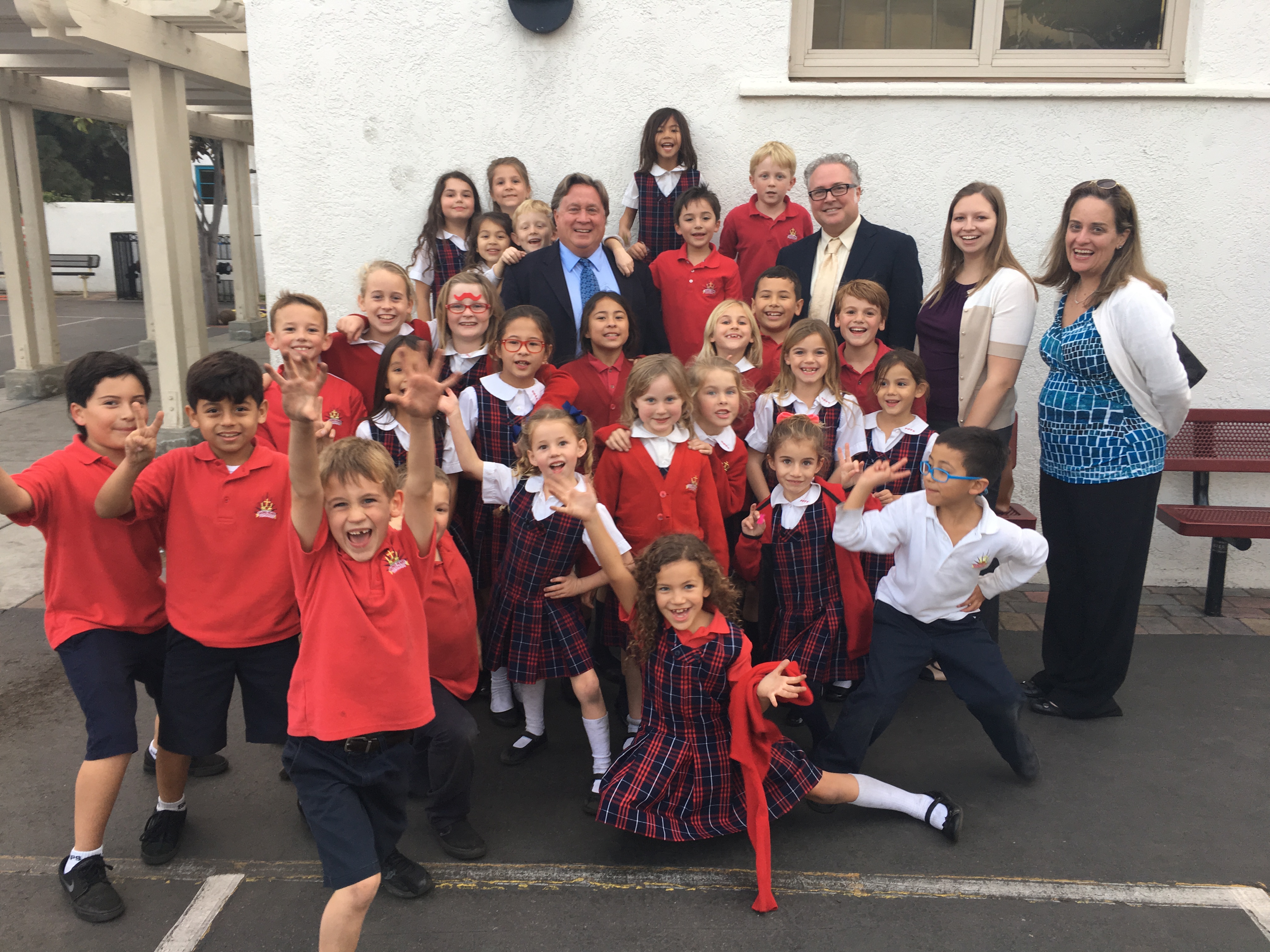 As the Director of Marketing Communications, many of my days are spent working behind the scenes in the office to ensure our programs and services are promoted, that we are connecting and engaging with our members, and proclaiming the great news stories of Catholic school education. What I often miss yet often look forward to is connecting in person with the many inspiring Catholic school educators and children across the country.
In January, as part of our final site visit and planning meeting for the NCEA 2016 Convention & Expo, NCEA's Amy Durkin, Jennifer Sweet and I traveled to sunny San Diego to meet with the local planning committee. We also visited two local Catholic schools – Mater Dei Catholic High School in Chula Vista and Sacred Heart Parish School in Coronado. Our tour guide, John Galvan, Director for Schools in the Diocese of San Diego, was able to show us firsthand all of the wonderful things happening in his diocese and Catholic schools. I'm happy to share what we learned with you!
NCEA: How many schools do you have in the Diocese of San Diego?  What is your total school enrollment and staffing? 
John Galvan: Being a born native to San Diego, I am constantly amazed by how many people are transplants to the place I've called "home" my entire life. But why wouldn't they? There is a reason we are referred to as "America's Finest City." With 51 Catholic elementary and high schools, the Diocese of San Diego offers a wide variety of educational opportunities in the 8,852 square miles it occupies. Together with the 15,000 students and 1,100 educators in the Diocese of San Diego, we are excited to welcome NCEA and its members to our beautiful city for the 2016 NCEA Convention & Expo.
NCEA: How are Catholic schools thriving in your diocese?

JG: At a recent leadership meeting with our Catholic elementary school principals, a "think mapping" exercise uncovered a direct answer to an important question: What do you see unfailingly as the value added to a Catholic school education? Their top ten lists offers a true marker of our achievement; however, one point stood out above the rest. Catholic school students in San Diego and Imperial Counties respectively give over 100,000 hours of varying forms of service annually to our local, regional, national and international communities, based on the minimum service requirements of our schools. Knowing that a vast number of our students go above and beyond the mere "requirement," building Christ's kingdom of justice love and peace in this Year of Mercy is alive and well in our schools. When they reach adulthood, studies show that these same students tend to be more civically engaged, more tolerant of diverse views, and more committed to service well into the rest of their lives.
NCEA: What are some of your challenges?
JG: Of course, our diocese is also not immune to the struggles that our Catholic education nation is facing. With declining enrollment and school closures in recent years, our diocese continually works to transform Catholic school education. In partnership with our community of support, we are looking at new governance models, raising academic rigor, and creating greater access and affordability to Catholic education in our region.
NCEA: What makes San Diego such a special place for Convention?
JG: While San Diego has a unique story, fellow Californians will be presenting at the convention to share their successes and growth opportunities as well. The list of speakers from California contains some of our best, including a number of Catholic school superintendents from across the Golden State. California has been a forefront of innovation in Catholic education, and we want to share our journey with you.
NCEA: What are some local attractions and activities that NCEA 2016 attendees can do while visiting?
JG: While high quality professional development and collaboration is a hallmark of the NCEA Convention, San Diego is always good for a good time. From our Gaslamp District just steps away from the Convention Center to the world-famous San Diego Zoo, we offer something for every type of vacation goer. So come grab a beach chair at the Hotel Del Coronado or give jet packing in Mission Bay a try. We are excited to welcome you to San Diego; you may even decide to stay for good!
The NCEA 2016 Convention & Expo will be hosted in San Diego March 29-31. The early bird rate expires February 12, 2016 so register today! <link to www.ncea.org/convention>