This post was contributed by Kate Rezac, NCEA Monarch Grant Program Teacher Leader.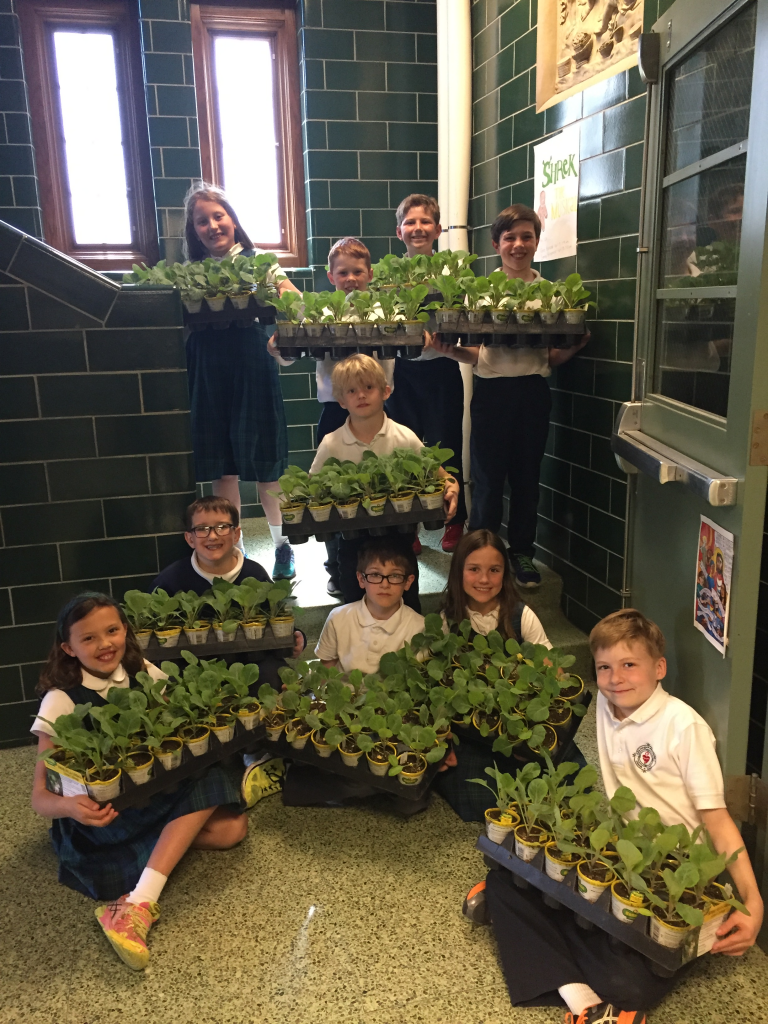 Pope Francis said, "Let us be protectors of God's Plan inscribed in nature, protectors of one another and of the environment." Our students, our families, our community are finding ways to be these protectors. For example, over spring break, one student and her thoughtful grandfather built a butterfly house to provide a safe haven for the monarchs, and they gave this new home to our SMM Monarch Meadow. Other students planted milkweed seeds and have been caring, nurturing, and protecting them for weeks at home with notion that they will donate them to our garden. A family traveling in California over spring break made a special stop at the Monarch Sanctuary in California where the monarchs were protected during the winter months. Another family traveled to the Cayman Islands and explored another butterfly sanctuary. So many people around our globe are protectors and caretakers. We know we are called to be protectors of the monarchs.
Sometimes being a steward requires us to get our hands dirty, and that happened on April 11th. Students, scouts, leaders, parents, grandparents, younger siblings dug in and did an amazing job pruning and weeding our garden space as we prepare for our new visitors.
The garden is our classroom quite often. Recently in math class, the third graders had to measure length in centimeters and decimeters and compare metric units of length. They measured and recorded the height of items such as the Red Emperor Tulips. Our garden is a test tulip garden for Journey North. These tulips are beautiful. So many were amazed to see them blossom. We can see how God is an amazing artist by seeing the tulips and daffodils grace our space and touch our hearts. We even planted tulips in the shape of a heart for Jesus' sacred heart.
We decided to further be caretakers of the earth, and the students are proud to be members of the Bonnie Plants Cabbage Program. Over 100 students took home cabbage plants that they will care for over the summer. We were blessed to have a caretaker from Bonnie Plants deliver the plants. He spoke with students about how to provide for the cabbage plants.
We know this next month will be filled with excitement! Growth and change and transformation are just around the corner. We are called to be protectors and caretakers. We are blessed to do our part.
Learn more about Saint Margaret Mary Catholic School's Monarch butterfly activities and more on Facebook and Twitter.
Saint Margaret Mary School in Omaha, Nebraska, is a two-time recipient of the NCEA Monarch Rescue Grant.  Grantee schools will share monthly updates on their efforts in researching, planning, building, and maintaining the very best monarch-friendly butterfly gardens possible.  They will monitor the success or failure of the garden, learning from problems they encounter to plan improvements in subsequent years.  Most important, the developing learning modules will incorporate Catholic social teaching on stewardship of the resources God has provided us.
Follow the Monarch Butterfly conversation using #NCEAMonarch, search NCEA Talk using keyword Monarch Butterfly Rescue and view the Monarch Inspiration Gallery on Pinterest.