This post was contributed by Holly Rice, NCEA Monarch Grant Program Teacher Leader.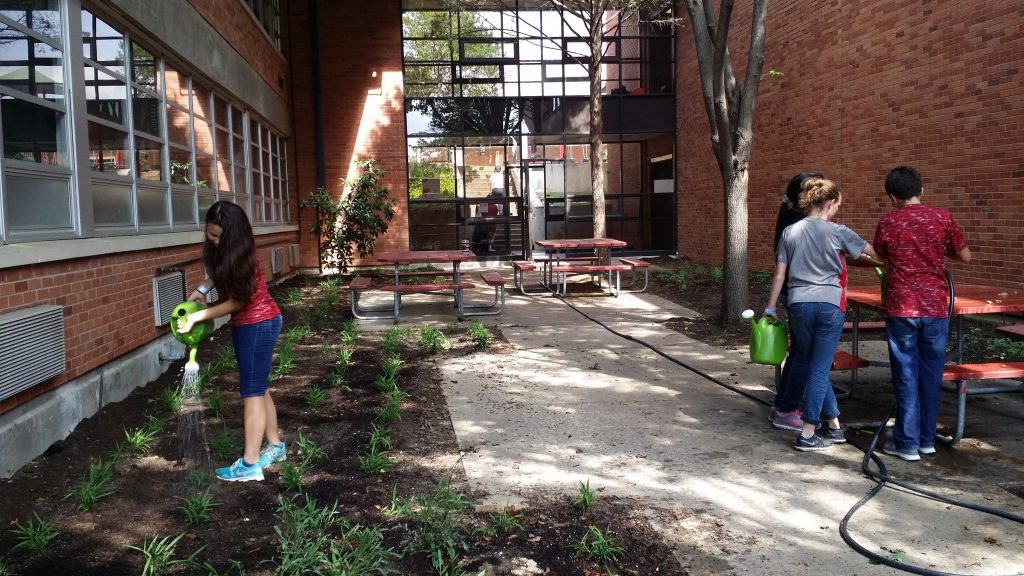 We now have two completed gardens at St. Elizabeth! Our courtyard plants are showing a lot of growth during the first month since completion. The butterfly garden in front of the school has four varieties of milkweed and the plants had a rough start but are doing better now. We had a lot of storms with high winds which have been a bit of concern but we have not lost any plants. Students are eager to see signs of butterflies but so far we have not seen activity. Students are helping to maintain the garden during and after school and are very curious about different organisms we are finding, especially in the courtyard. One class even started their own lesson in the courtyard after finishing watering the plants.
The art class is currently working on making butterfly decorations for the gardens and students in 6th grade are making butterfly origami to hang around the school. Pre-K bought a butterfly kit and they were happy to have five butterflies to release last week. The whole school is involved in learning more about God's creatures and how we can take care of them. Parents have told me some of the things they are doing at home also. School will be over in two weeks but we will still have a lot of activity at St. Elizabeth this summer!
Learn more about St. Elizabeth of Hungary Catholic School's Monarch butterfly activities and more on their blog, Facebook, Twitter, and Instagram.
St. Elizabeth of Hungary Catholic School in Dallas, Texas, is a recipient of the NCEA Monarch Rescue Grant.  Grantee schools will share monthly updates on their efforts in researching, planning, building, and maintaining the very best monarch-friendly butterfly gardens possible.  They will monitor the success or failure of the garden, learning from problems they encounter to plan improvements in subsequent years.  Most important, the developing learning modules will incorporate Catholic social teaching on stewardship of the resources God has provided us.
Follow the Monarch butterfly conversation using #NCEAMonarch, search NCEA Talk using keyword Monarch Butterfly Rescue and view the Monarch Inspiration Gallery on Pinterest.