This article was contributed by Amy Granato, teacher Bishop Donahue HS in McMechen, WV.
.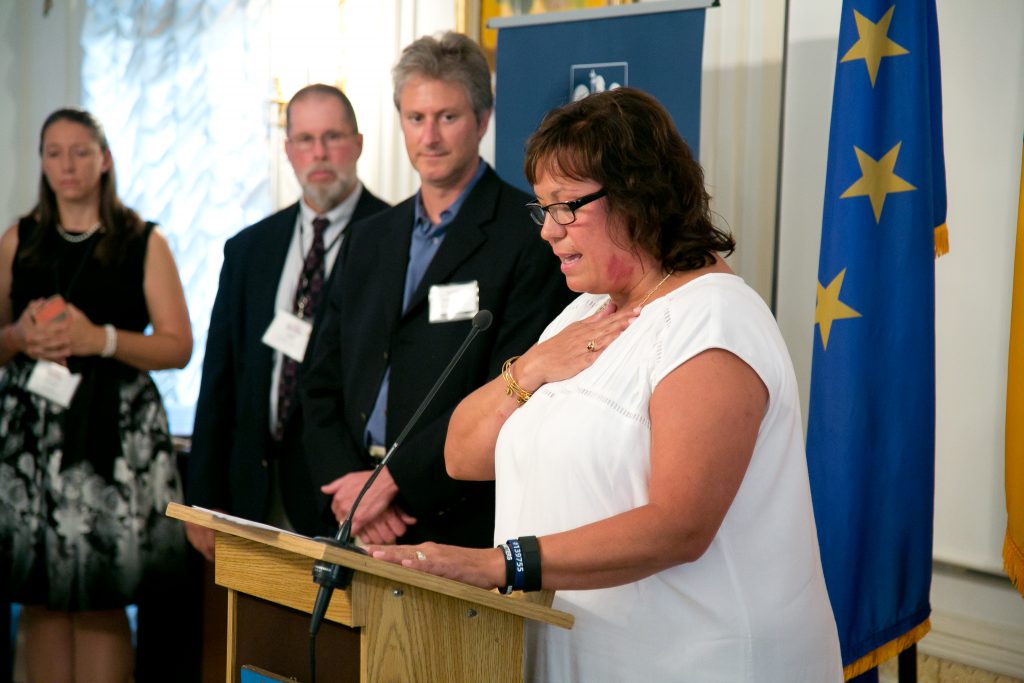 Here is the speech delivered at the closing reception of the Bearing Witness program at the Romanian Embassy by teacher-participant Amy Granato.
"Good evening Bearing Witness 2016 colleagues, facilitators, presenters, representatives of the ADL, NCEA, USCCB, officials of the Romanian Embassy:
I have been asked to share a few thoughts about my Bearing Witness 2016 experience.
Where should I begin?
Gratefulness for having been afforded this amazing opportunity is the most reasonable place to begin. The 6 days are nearly at their end and I still can't believe that I am here. I did not know what to expect coming in, but every detail has blown me away.
The organizational skills and hospitality of Nomi and Seth, our ADL leaders, have made it seamless. The expertise, conviction, sincerity, and compassion of each and every presenter is unlike anything I have ever experienced. The generosity of Eileen Ludwig Greenland and the Bender Family is without bounds. The facilities, the meals, our bus driver George, and I could go on and on……have all been first class and at times overwhelming.
It is so obvious that pulling this 6 day journey off is the work of countless hearts and able hands. So thank you one and all for EVERYTHING.
That all being said……to be very honest, this time last week, if I could have backed out, I would have. You see, on July 5, I returned from a study seminar called Poland Personally sponsored by Classrooms without Borders which is affiliated with the Jewish Federation of Pittsburgh. I spent 9 days traveling to Warsaw, Lublin, Starachowiche and Kraków. Along with about 30 educators and 20 or so high school students we visited Treblinka, Magdanek, and Auschwitz-Berkenau among other sites.
Why I wanted to 'chicken out' of this week……..is that it was all just too much.
What became a part of me in Poland knocked me for a loop. Frankly, I was exhausted……it was A LOT. I felt things that I didn't know were in me, or maybe they never were in there before Poland. I like answers, we all do, We are teachers, we use our God-given reason to figure things out with our students. BUT, there was nothing reasonable about what went on during the Holocaust, there are still no answers. We had rocks thrown at us near a section of the ghetto wall in Warsaw.
Why would I want to revisit that? I did not know if I had it in me to go back to Poland here in DC already, so soon, even if it were only in my mind and heart. What was I thinking? I kept telling myself……2 intense Holocaust seminars back to back? Are you crazy, morbid, a glutton for punishment? WHAT?
There was no backing out though…..I had to come…….after all, Nomi and Seth made the reservation at the Double Tree and ordered all those meals, and the interns put together the binders and bags, etc, all the presenters were in place, etc…….. So to DC I came……..
Thank God I am here, thank God you are here. Because yesterday, I promised to Halina, the Holocaust survivor who shared her story with us yesterday, that I will tell her story, that WE will tell her story. That is why I came. To learn things intellectually, and to feel things that I have never felt even though it is painful….to tell the story right. To pray for those who suffered at the hands of the Nazis, whether they perished or survived, they suffered and many still do. To pray for the repose of all those souls. Every one of us shares in the suffering to an extent because of what we know. To be able to admit that there is no reasonable answer as to why, and that is all the more necessary to tell her story and the stories of countless others.
I needed to come here to live out the CULTURE OF ENCOUNTER that Pope Francis brought up at the first Pentecost of his pontificate in 2013. Meeting people, coming to know who they are, where they come from, what they've experienced, why? Learning that we cannot hate those who we come to know, especially those who are or have been treated unjustly and with hate. Pope Francis encourages all of humanity to come to know our neighbors. By encountering our neighbors, we more likely than not come to understand how we are alike rather than our differences. And just to tolerate is not enough……but move to the next level of acceptance — to live out the Golden Rule with mercy , that Rabbi Sandmel reminded us is a foundational tenet that just about every major religious tradition shares with Judaism. It is very likely for humans to hate the unknown that we fear, I believe it is nearly impossible to hate those who we honestly encounter.
On a personal note, –I just wanted to add something I found out last Friday at my Aunt Pat's funeral—her son, my cousin Matt who was doing a lot of the work on our Polish roots just recently determined that our generation is 1/16 Jewish on our Polish grandmother's side of the family. I thought it quite ironic considering the life-changing experiences that I am in the midst of. I have had a personal moment of encounter, where I have identified the OTHER in myself.
This is what happened with us when we heard Halina's story, when we encountered her. We know her, she is our neighbor. I loved it when Halina said her granddaughters are the revenge against Hitler! Let us join her in her revenge by going forth to share the best of the work we've done this week and sharing the best of the teaching we've received and be a part of the METANOIA needed in a world that is so conflicted and broken.
All those hours encountered with our presenters Fr. Dennis, Kenny, Randi, Dr. Barnett, Rabbi Sandmel, Pete, David, and all the program alumni who joined us this week got us ready to do that. All the presentations, exercises, reflections, the relationships we built, the networking, the resources. I came here because they are necessary for us to ENCOUNTER even more neighbors.
I came to be prepared to tell these stories. With each other's help, with God's help–we can be emboldened to go into our homes, schools, churches, and communities and tell their stories with compassion, love, confidence, and conviction. They deserve it and those with whom we share deserve it too. They deserve it so that they can also bear witness to the horror, and be agents of hope. It is our gift and privilege to do so. We have a whole toolbox filled with tools to live out the encouragement of Pope John Paul II and BE NOT AFRAID to go back to our families, students, colleagues, congregations, neighbors, and friends and BEAR WITNESS.
God is seeing to it that we are prepared to live out His plan in a very special, specific way. Together, we can make a difference in this generation and future generations. Mother Church supports and encourages our efforts.
In closing, it has been my honor and privilege to ENCOUNTER this week with each and every one of you. Let's stay connected because what we do matters. Let's do it together.
Thank you!"