This press release was contributed by Margaret Kaplow, NCEA Public Relations Manager.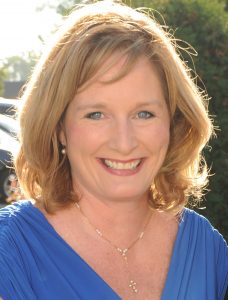 Arlington, VA – The National Catholic Educational Association (NCEA) congratulates winning principal, Lynne Scheffler from St. Joseph Catholic School in the Diocese of Joliet, as one of three Catholic elementary school principals named as winners of the 2016 National Distinguished Principals Award presented by the National Association of Elementary School Principals (NAESP).  Ms. Scheffler will be presented her award in Washington, D.C. at a two-day celebration October 6 – 7.
"To have our principals honored on a national level is exciting," said NCEA's Leadership Development Assistant Director Annette Jones. "Their devotion to providing faith-based education and excellent academics not only enriches their teachers and students with a clear philosophy of Catholic education, but also serves to inspire their surrounding communities."
Ms. Scheffler has been the principal at St. Joseph's for 15 years.  Among her accomplishments, Ms. Scheffler cites three that are most significant: tracking alumni; national award recognition; and improved and upgraded building enhancements.  Her meticulous attention over 14 years to how successful her eighth-grade students were as high school students produced statistics on how many of them took honors and advanced placement classes, made honor roll, were accepted to high schools of their choice and even how many went on to college. Ms. Scheffler counts a 2010 National Blue Ribbon School of Excellence award among her school's accolades. In 2015, Ms. Scheffler won the NCEA Lead. Learn. Proclaim. Principal Award.
Considered a "partner in the work of ministry," by St. Joseph's pastor, Fr. Gregory Rothfuchs,  Ms. Scheffler is best known for extending the love of Jesus from school to home.  Parents consider her a role model reflecting the faithful stewardship of Catholic education in everything she does.  The Brightmore family remarked Ms. Scheffler  provides a "community that surrounds its children with Catholic values, educates them in the best way possible and protects them at all costs, nurturing and loving them like a parent."
NAESP recognizes elementary and middle-level administrators for setting high standards for instruction, student achievement, character and climate for the students, families and staff in their learning communities.  For more information, visit www.naesp.org.
NCEA also recognizes the other winning Catholic school principals of the 2016 NAESP National Distinguished Principals Award:
Jane A. Bona, Immaculate Conception School, Columbia Heights, Minnesota
Kathleen A. House, Christ the King Catholic School, Little Rock, Arkansas
###
Rooted in the Gospel of Jesus Christ, the National Catholic Educational Association (NCEA) is a professional membership organization that assists its members to fulfill their teaching mission of the Church and to lead, learn and proclaim the good news of Catholic school education. For more information, visit www.NCEA.org