The following article is a reprint of a press release distributed by Michca Fortin of the Catholic Schools Office. 
Stay tuned next week for a follow-up article sharing highlights and photos from the second annual event.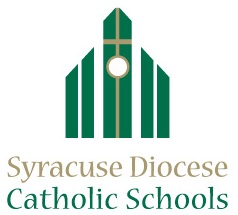 The 22 Catholic schools within the Diocese of Syracuse will once again celebrate Catholic Schools Week, January 29-February 4, but the highlight of the week will be their second annual diocesan-wide day of service on January 30th.  Catholic Schools Week is the annual celebration of Catholic education in the United States.
On Monday the 30th, schools in all four regions of the diocese will focus on giving back to their communities.  School administrators began planning Catholic Schools Week months ago.  Each school chose a partner organization, including Catholic Charities, Upstate Golisano Children's Hospital, the Rescue Mission, and Samaritan Center, to name a few.  Students at each school will perform acts of service ranging from stuffing baskets with necessities for refugees, to making sandwiches for the homeless, to bagging warm socks for veterans in need.  The schools have been collecting non-perishable food items, clothing, and other necessities in the weeks leading up to the Day of Service.
Highlights from Catholic schools in each region of the diocese will be available in The Catholic Sun, on the Syracuse Catholic Television YouTube channel, and diocesan social media.
The Diocese of Syracuse includes 22 component schools, all accredited by the Middle States Association of Colleges and Schools.
REQUEST FOR MEDIA COVERAGE: media are encouraged to contact individual schools in their area and cover the Day of Service.  A complete list of schools is available by visiting syrdio.org/schools.