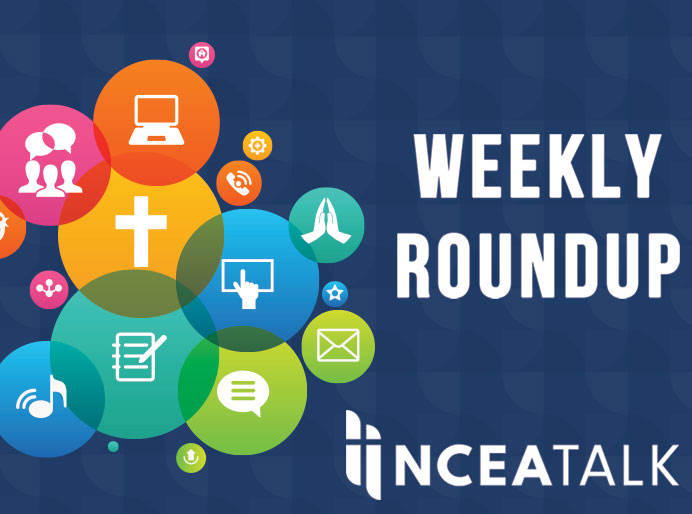 Didn't have the chance to check in with NCEA Talk each day? We've got you covered. Each Friday NCEA Talk will post a roundup of Catholic education news and resources from the week.
Monthly Message from NCEA President/CEO – January 2017
NCEA 2017 Lead. Learn. Proclaim. Awards Winners
Bringing Back the Eucharistic Procession
Webinar: Edcamps: A Free and Teacher-Driven Professional Development Movement
Building Community Through House System: A Look at St. Ann Catholic School's House System – Part One
---
Catholic School Educators: Call to Discipleship
NCEA is pleased to share its new weekly reflection series "Catholic School Educators: Call to Discipleship" for the new liturgical year. This series shares reflections for educators contributed by Justin McClain, teacher at Bishop McNamara High School and author of Called to Teach: Daily Inspiration for Catholic Educators. The weekly reflections are a regular feature in our Friday Weekly Round Up blog posts on www.nceatalk.org – check back each Friday for a new weekly reflection.
Second Sunday in Ordinary Time – January 15, 2017
Gospel Reading: John 1:29-34
"Behold, the Lamb of God, who takes away the sin of the world."
In the realm of scriptural studies, St. John the Baptist is often referred to as "the last Old Testament prophet," because although he appears by name solely within the New Testament, he is the last formally prophetic figure to precede Christ. John the Baptist was unafraid to proclaim Christ's message of repentance, righteousness, mercy, charity, and forgiveness of sins. Catholic schools are unique settings within which our students can learn this same message, in order to make the world a better place both within and outside of school walls.
How have you imitated St. John the Baptist by proclaiming Jesus Christ truthfully and charitably within your school community?