The following article is a reprint of a press release distributed by Emily Pippin of the Academy of Our Lady of Peace in San Diego, CA.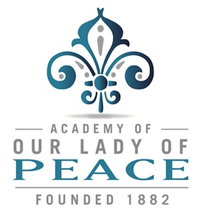 The Academy of Our Lady of Peace (OLP), the oldest high school in San Diego and the only all girls' school in the county and part of a national initiative by Fair Trade Campaigns to engage K – 12 students in issues of global poverty, is proud to announce its official designation as the first Fair Trade High School in San Diego. The school is only the 7th in the state of California and the 29th in the nation.
Fair Trade is an economic system that ensures consumers the products they buy were grown, harvested, crafted and traded in ways that improve lives and protect the environment. Fair Trade Campaigns officially recognizes schools in the U.S. committed to educating students about the issues of Fair Trade and sourcing Fair Trade products like coffee, tea and bananas in the cafeteria, offices and at events.
Following in the longstanding tradition of our founders, the Sisters of St. Joseph of Carondelet, we continue the focus on environmental awareness and concern for social justice," said Dr. Lauren Lek, Head of School. "While simultaneously answering the worldwide directive from Pope Francis to be good stewards of our earth, the young women leaders of our school have come together to enact this program on campus. The launch of this program through the passionate investment of the students is another testament to OLP serving as the nucleus of women's thought leadership in San Diego.
With more than 500 Fair Trade Schools in the United Kingdom alone, the U.S. program grew out of work in Europe and the increasing demand for Fair Trade and ethically produced products to be incorporated into institutional purchasing. Fair Trade Campaigns sees the tremendous impact institutional purchasing in the U.S. can have on farmers and artisans worldwide.
There are few things more exciting than seeing today's youth come to understand the role that they can play as consumers in making the world a more fair and just place," said Billy Linstead Goldsmith, National Coordinator, Fair Trade Campaigns. "To see them become not just conscious consumers, but advocates for Fair Trade, should challenge all of us to do the same.
Our goal is to intentionally engage in the Fair Trade movement, through making Academy of Our Lady of Peace an official Fair Trade School. As environmental stewards, seekers of social justice and global citizens, we are excited to partner with Fair Trade Campaigns on this important issue. To join or support Academy of Our Lady of Peace, visit us online at http://fairtradecampaigns.org/campaign/academy-of-our-lady-of-peace/.
There are now over 260 active Fair Trade Campaigns in towns, schools, congregations and universities across the country, now including Academy of Our Lady of Peace.
###
About Academy of Our Lady of Peace
The Academy of Our Lady of Peace (OLP) is a rigorous four-year college preparatory school with an unparalleled leadership program and variety of co-curricular activities. Founded in 1882, OLP has faithfully served families of San Diego County for the past 135 years. Young women are educated in the spirit of excellence and innovation that characterizes the founding Sisters of St. Joseph of Carondelet.
Inspired by the charism of the Sisters of St. Joseph of Carondelet, OLP students are challenged to become academic, social and spiritual leaders of the CSJ mission. The school follows its mission to engender a collaborative worldview in the tradition of the Gospels. OLP ensures that its students find their voice and develop the skills to compete at all levels, regardless of career and life aspirations.
The Academy of Our Lady of Peace is located at 4860 Oregon Street, San Diego, CA 92116. For more information, visit: www.aolp.org.
About Fair Trade Campaigns:
Fair Trade Campaigns is a grassroots movement mobilizing thousands of Fair Trade advocates on campuses and in communities across the United States. Fair Trade Campaigns recognize towns, colleges, universities, schools and congregations in the US for embedding Fair Trade purchasing practices and principles into policy, as well as in the social foundations of their communities. Project collaborators include Fair Trade USA, Fair for Life and Fair Trade International – USA, third-party certifiers of Fair Trade products in the United States, and the Fair Trade Federation, a North American trade association of organizations fully committed to Fair Trade. Visit www.FairTradeCampaigns.org for more information.