The following article was contributed by Jenn Lyke, Development Director at Althoff Catholic High School.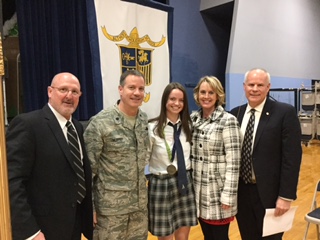 The National Catholic Educational Association (NCEA) is the largest private education association in the world. NCEA members serve 1.9 million students in Catholic education. In order to recognize outstanding Catholic school students, the NCEA implemented the Youth Virtues, Valor and Vision Award. Althoff Catholic High School junior, Emma Murphy is one of just ten students from across the country selected for this prestigious honor.
The ten honorees were chosen for their selfless service, determination, innovation and desire to improve the world around them. The students chosen embody the standards of personal conduct and public service through their faith, leadership and service to others.
Inspired by her participation in the Hugh O'Brian World Leadership Congress, Emma decided to take action to address issues of water insecurities discussed at the congress. "I attended the Hugh O'Brian Youth Illinois South Central leadership seminar over the summer with three of my Althoff Catholic classmates," said Emma. "At that seminar I was one of two students (out of 400) chosen to receive a scholarship to attend the World Leadership Congress. Both of these experiences were life changing."
At the World Leadership Congress Emma was introduced to the realities of water insecurity in the United States and across the globe. "I was so horrified that a mass of people are deprived of the most basic human necessity," said Emma. "Not only did I WANT to do something to help, I had to do something."
Emma has always had a passion for the sciences. "This year I am doubling up on sciences," said Emma. "I take both Honors AP Chemistry and Honors Physics." In order to help address the issue of water insecurity, Emma had the idea of creating a water purification platform utilizing the algae species Euglena. She and her science teacher, Mr. Morris have obtained the majority of resources needed to execute the project. "We are both doing separate research on Euglena while corresponding with a professor at Baylor University who is doing similar research. Our goal is to begin construction in March," said Emma.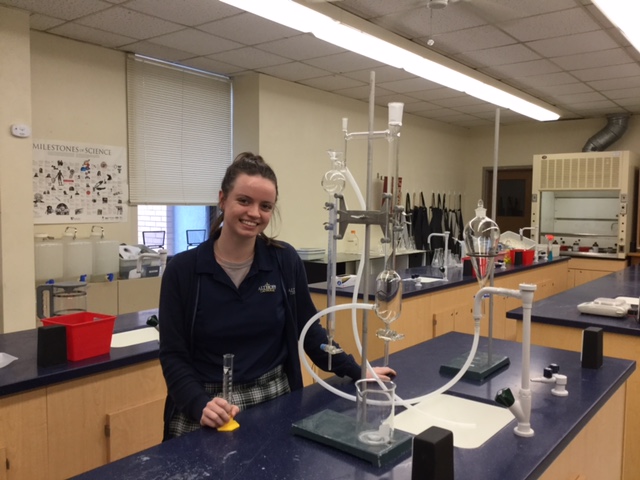 Being one of ten students from across the country to receive the NCEA Virtues, Valor and Vision Award is very meaningful for Emma. "It is so inspiring that the NCEA has chosen to honor Catholic school students from across the country. I am extremely blessed a grateful to be included in this group," said Emma.
Emma Murphy was nominated for the NCEA award because she truly exemplifies Althoff Catholic High School's new values statement, 'Rooted in Jesus Christ and Catholic values we aspire to achieve our personal best in all we do,'" said Principal Dave Harris. "I am very proud that she was chosen for this prestigious award.
In addition to enjoying the sciences, Emma appreciates Althoff Catholic's rigorous and diverse curriculum. "My classes require critical thinking skills," said Emma. "The teachers are amazing, not only do they push the boundaries of their curriculum, I know I can go to them for anything, whether or be academic or personal. They go above and beyond for their students."
Although she is only a junior, Emma is already eyeing a major in chemistry or medical science. Emma also plans to attend law school with a goal of eventually becoming an intellectual property lawyer.
We look forward to sharing more about Emma's research in the coming months. We are confident that she will truly "be the change she wishes to see in the world."
To see Emma explain her water purification idea, click here.
To watch the ceremony, please click here.