The following article was contributed by Nicole Ossevoort, Communications & Social Media Specialist, Diocese of Syracuse.
On Monday, January 30th, the 22 component schools in the four regions of the Diocese of Syracuse, New York kicked off Catholic Schools Week 2017 with the second annual diocesan-wide 'Day of Service.'
In Oswego, students at Trinity Catholic made fleece blankets for the Linus Project at Upstate Golisano Children's Hospital.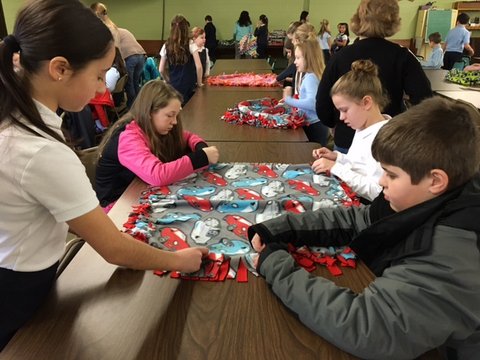 At Blessed Sacrament in Syracuse, the kids made sandwiches for the Rescue Mission in Syracuse.  They also donated adult white socks for the homeless, and celebrated afterward with a good old-fashioned 'Sock Hop.'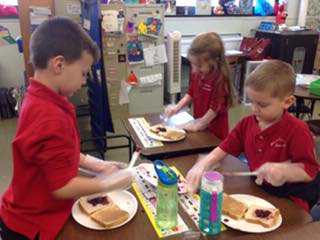 In Johnson City, students at St. James assembled and delivered 'Thank You' boxes to the police department to show their gratitude to local law enforcement.  The boxes included treats as well as a St. Michael the Archangel medal (the patron saint of police officers).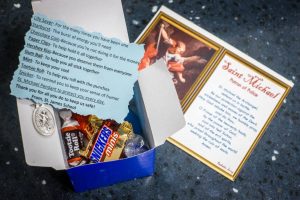 At Rome Catholic, older students helped the younger kids assemble care packages filled with personal care items.  The packages were distributed at the Rome Rescue Mission.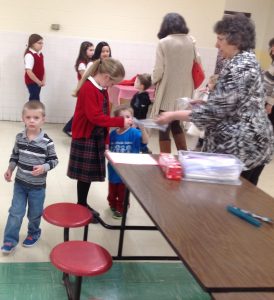 Schools also donated paper goods to Francis House, a home for the terminally ill, made sandwiches for Joseph's House, a home for moms and babies, performed songs for seniors at a nursing home, and made thank you cards for seminarians from the diocese!  Photos from the Day of Service are available by visiting the Catholic School Office – Diocese of Syracuse Facebook page.
The schools in the diocese are committed to being 'communities of faith, knowledge, and service,' and a day focused on giving back to the community is an important part of our school's Catholic identity.  Superintendent Bill Crist and representatives from the diocesan office of communications, The Catholic Sun, and Syracuse Catholic TV were out and about on the Day of Service visiting various schools and sharing photos and video from the big day on social media!
This year, the Catholic Schools Office decided to get in on the action, too.  Representatives from the office, as well as Danielle Cummings, diocesan chancellor and director of communications, rolled up their sleeves and put on their hair nets to volunteer in the kitchen at the Samaritan Center on Friday, February 3rd.  Some staff were stationed in the 'Family Area,' where those with small children were served instead of walking through the cafeteria-style line.  Others were on clean-up duty, but all pitched in to sweep and mop at the end of their shift.  "These are folks in our neighborhood, and we need to show grace and mercy," explained one regular volunteer who guided Catholic School Office staff during their shift.
The Day of Service certainly takes weeks, if not months, of planning and coordination, but the end result is worth the time investment: it's just another example of how our Catholic school communities know, live, and share their faith!