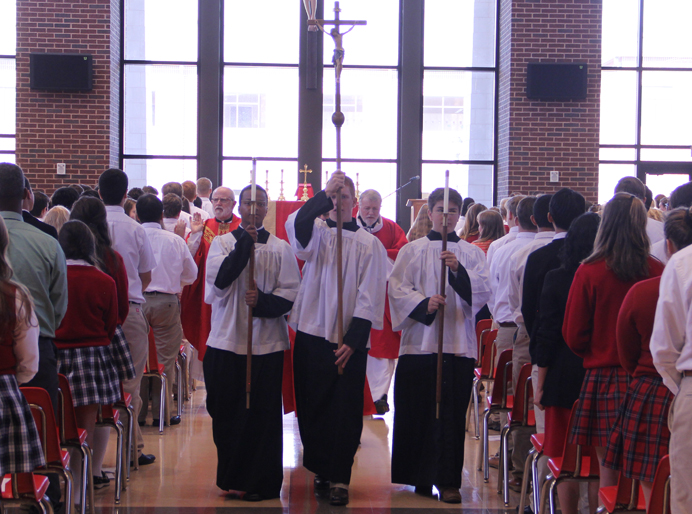 One School, One Pride
At St. John XXIII College Preparatory a sense of family and communal purpose pervades every aspect of life on campus. From our House System, to our strong Catholic identity, to our athletic programs, one thing you will find is a sense of unity and pride. Among everything else, it is this that makes our campus special.
What started out as Pope John XXIII High School a little over a decade ago, has become a thriving community of learners and future leaders. When Pope John opened its doors in 2004, it had just 40 students. Now, rechristened as St. John XXIII College Preparatory to coincide with the canonization of Pope John in 2014, the school has grown to 430 students and the largest freshman class in school history.
The wonderful thing, though, about St. John XXIII is the overwhelming spirit of community on our campus. Visitors tell us they have never seen such joyful and helpful students. Parents send their children to us for our solid academic programs, our competitive sports teams, and for our strong Catholic identity, but it is more than that. Here you will find your place in one of our five houses—Aquinas, Borromeo, Lisieux, Loreto, and Neri—and develop life-long friends. Here you can be part of a tradition of excellence in athletics, where almost every sport has earned district titles, multiple sports have advanced to state over the years, and our swim team has numerous state titles. Here you will cultivate your talents and expand your intellect as you attend classes. Here, also, is where you will develop spiritually through our Works of Mercy program, retreats, daily and weekly Masses, and other campus ministry events.
Our commitment to excellence has not gone unnoticed. In 2012, St. John XXIII received the Cardinal Newman Excellence in Catholic Identity Award and was named to the Catholic High School Honor Roll. In 2016, our school was named Reader's Choice Best Private School in Katy. Together, we strive to Parare Mente e Corde and ready our students for a life of leadership and service to God, family, and the community; we believe we have an extraordinary future ahead of us.
At St. John XXIII College Preparatory, even as we have grown, we haven't lost that strong sense of purpose or family. One school, one Pride. It's what makes every day great to be a Lion.