The following article was contributed by Ellen Wedemeyer of String Theory Schools.

I can't wait to get to St. Louis! I have so many new and exciting resources and strategies (and stories, of course) to share with all of you. I have five tools you can use Monday morning. They include:
Design lessons based on students' learning styles.
Group students by shared interest, topic or ability for assignments.
Assess students' learning using formative assessment.
Manage the classroom to create a safe and supportive environment.
Continually assess and adjust lesson content to meet students' needs.
Be sure to come to my session to learn more about these five tools. I will also share some fantastic resources to help get you through the rest of the year and even more to help you plan for next school year!
Here are just a few to get you started:
Builds stronger writers through interest-based curriculum, adaptive exercises and actionable data: www.noredink.com
Creative writing app: appadvice.com/shareapp/627192932
AP US History 5 steps to a 5: appadvice.com/shareapp/364376780
STEM coding and workflow app: appadvice.com/shareapp/915249334
As many of you know, I have over 100,000 frequent flyer miles thanks to your invitations to come and work with you, and I am REALLY looking forward to having you all in the same place – at NCEA! –Oh, and I almost forgot, book two is waiting for you at NCEA! I will let you in on the big reveal – the title is KNOW  No Children of a Lesser God – I hope you love it. Stop by and I'll sign it for you.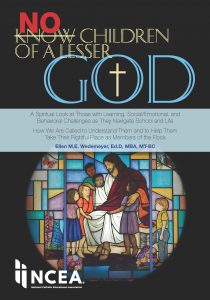 The big book of strategies and interventions, NO Know Interventions WILL WORK for These Students!  Is coming from NCEA and will be in your hands while you plan for fall. Finally an answer to, "How do I teach all these different students on all these different levels at the same time?" Well, I have the tools you have been praying for and all my professional friends have written forwards sharing their stories. I am just putting the finishing touches on it. Well, that's what is new with me. Can't wait to see all of you! Wishing everyone a safe flight. I am presenting Wednesday Moring and as Judy Garland sang, "Meet me in St. Louis."
Dr. Ellen Wedemeyer will also be presenting at the NCEA New Directions Exceptional Learners Conference June 19-21, 2017 at the Hilton Orrington/Evanston.