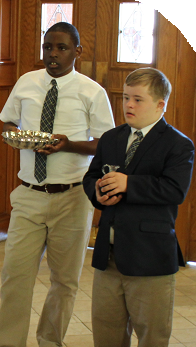 Unwavering in their conviction that every child deserves the opportunity to receive a Catholic education, and realizing that moderately to severely disabled students were being denied this chance, the pastor and school leaders of Immaculate Conception Catholic School (ICCS) in Augusta, Georgia  decided to create a new program to address this imbalance in educational opportunities.
Beginning last fall, Immaculate Conception proudly expanded its 103 year old educational ministry to open the first and only fully inclusive special education program at a Catholic school in the Diocese of Savannah, Georgia.  The new special education program at ICCS is able to support students with disabilities such as Down syndrome, autism, cognitive impairments, learning disabilities, and attention deficits. Maintaining the strong conviction that scaffolding inclusion promotes the integrity of the special needs student, Immaculate Conception offers three levels of special education services to families. Children with mild disabilities attend classes in general education all day with special education support in the classroom, those with moderate disabilities receive their core instruction in a learning lab and then return to the general education classroom for all other subjects and activities, and students with severe disabilities receive all their academic instruction in a special education classroom, but join their peers for science, lunch, recess, and specials. All the students at ICCS attend and participate in Mass together weekly. The school also provides students access to occupational, physical, and speech therapy if needed.
The first year of the new program witnessed phenomenal progress in all the new students. Nonverbal students spoke their first words, nonreaders read their first books independently, special needs students learned to tell time, count money, read a map, and write in cursive. But most importantly, these exceptional learners were invited to their first birthday parties with their classmates, were fully accepted by their peers, took on school duties such as safety patrol and altar server, and  finally became just "another student" at the school.
The special education program, now in its second year, continues to expand and add new students and families. The school was awarded the Innovations in Catholic Education award last year from Today's Catholic Teacher for it is special education program. In addition, the pastor of the school, Fr. Jacek Szuster was selected as a Pastor of the Year from the NCEA in 2014 for his work at ICCS.  As Dr. Sekul, the parent of a 6th grade special needs student said, "Thank you for having the 'dream' and the perseverance in seeing it through. I cannot thank you enough for all that this school has meant for our family."