Fresh on the job, the city's first black Catholic schools chief remains optimistic in face of flagging enrollment, new competition
The following article is a re-print of Janene Tate's article, Is school choice helping or hurting Catholic schools in New Orleans? This interview has been edited for clarity and length.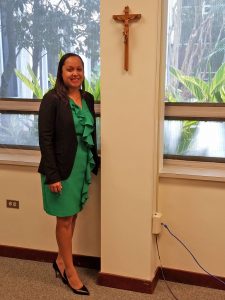 RaeNell Houston heard the calling to be an educator years ago. A former teacher, she has served as associate superintendent of Catholic schools for the Archdiocese of New Orleans since 2012. She takes her seat as the head of the school system — an appointment by New Orleans Archbishop Gregory Aymond —  in July.  Houston, who holds a Ph.D. from the University of New Orleans and a master's degree from Louisiana State University, is the first black person in the history of the Archdiocese to fill this role.
In a news release announcing Houston's assignment to lead schools in eight parishes and more than 3,500 students, Aymond said: "She (Houston) brings with her the professional experience and expertise necessary to lead our schools…She is a woman of strong faith and family, and is well prepared to lead our school family."
As a longtime member of this family, Houston knows firsthand that she has her share of challenges ahead. Among them are declining enrollment in Catholic schools and growing public scrutiny over private school vouchers. However, she is equipped and enthusiastic to continue on the path of promoting Catholic education.
Question: Do you feel that you're in competition with charter or secular private schools?
Answer: I think today, in New Orleans in particular, that parents are empowered with school choice. You're not assigned to a particular school based your address. Parents are empowered with finding the school that is the best fit for their children. The competition has always existed with other private schools as well as public schools, but I think that's a positive thing.
I am seeing a lot more targeted marketing by schools on TV, radio and billboards marketing schools to particular groups of parents. This is a discussion we've been having… (how to) develop a strategic and robust marketing campaign for Catholic education in general, and of course, assisting our schools with their more targeted marketing.
Q: How have your admissions and retention trends been over the past two years?
A: We have fluctuation in numbers, of course. There's no big trend of students leaving Catholic schools for other private school or public schools here. Usually, a student will transfer from one Catholic school to another Catholic school, if needed. Most of the parents that come in looking for an alternative (to their current school) are those that have moved to a different neighborhood, or have some other personal or household issue. If there is a financial issue, we always try to assist as much as we can so that the student can remain in our system and matriculate.
All of our schools have some amount of financial assistance set aside for families in need of financial assistance. We have the annual Champions of Catholic Education collection in February. Every church in the archdiocese has a second collection. Those funds are distributed to families who are in need of financial assistance.
More than 3,000 students in New Orleans use vouchers to attend Catholic schools.
Click here to read the full article.
---
This story was produced by The Hechinger Report, a nonprofit, independent news organization focused on inequality and innovation in education. Sign up for our newsletter.