The following article was contributed by Dr. Marco J. Clark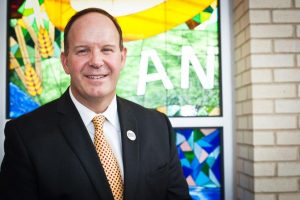 Blessed Father Basil Moreau, C.S.C., Founder of the Congregation of Holy Cross called on his school leaders to possess "the competence to see and the courage to act" to be effective leaders during the socially turbulent times of post-revolutionary France.
I think we would all agree that Catholic schools today, and society in general, are facing turbulent times…times that require competence and courage to adapt to changing realities. Kotter and Heskett (1992) stated, "The single most important factor that distinguishes major changes that succeed from those that fail is competent leadership" (p. 84).
We have all been a part of change efforts that have failed. Unfortunately, many of the change efforts that I've witnessed over the years were colossal failures.  And I'm not too proud to say that I even led some of these failed efforts myself.
Anyone who has been through an unsuccessful change effort knows how damaging it can be. Suspicion, lost trust, resentment, division, anger, stress, or even worse, complacency and cynicism, failed change efforts can certainly be painful.
Remember the show Fear Factor? Just watching this show caused me a great deal of stress. The idea of eating a spider, laying in a den of snakes or cascading across a tightrope hundreds of feet above a canyon was never very appealing, no matter how much money might have been involved. For many of our teachers, the idea of change evokes the same level of anxiety. For those of us that have led failed efforts, I might even trade that for the edible spider, den of snakes or freefall into the canyon. No doubt, failed change efforts produces carnage and leaves many doubting the competency of the administration.
The truth is; however, we can't let fear stop us from leading change in our schools. After all, education is changing, society has changed, parents have changed, and frankly, if we don't adapt, change and grow, then we will disappear.
There is hope, however. There is substantial research on the most effective ways to lead change…change that transforms, empowers, inspires, galvanizes, generates momentum, and brings hope.
I am hopeful that this session will help you develop greater competence and courage to lead change in your school. I look forward to seeing you in Boston!
---
Be sure to attend Dr. Marco J. Clark's session, Transformational Leadership: The Competence to See and the Courage to Act, at the 2017 NCEA Institute for Catholic School Leaders (ICSL) on Tuesday, July 20 at 9:00 AM.