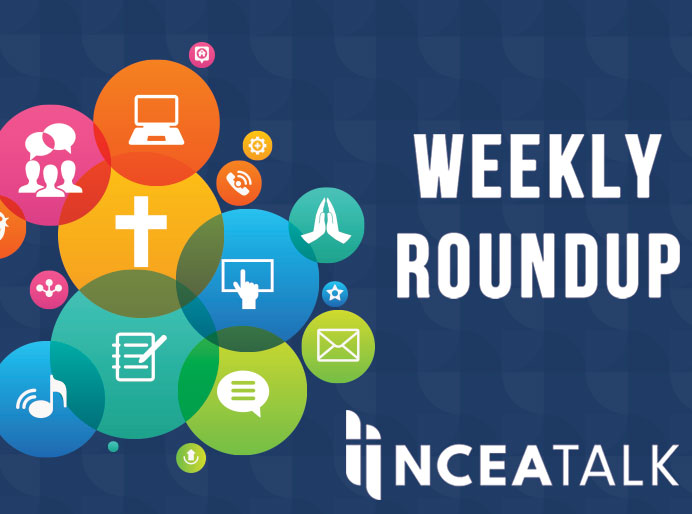 Didn't have the chance to check in with NCEA Talk each day? We've got you covered. Each Friday NCEA Talk will post a roundup of Catholic education news and resources from the week.
Leading in an Age of Disruption: Developing the Competence to See and the Courage to Act
Is school choice helping or hurting Catholic schools in New Orleans?
Steering the Battleship – Change is at the Heart of School Improvement
---
Catholic School Educators: Call to Discipleship
NCEA is pleased to share its new weekly reflection series "Catholic School Educators: Call to Discipleship" for the new liturgical year. This series shares reflections for educators contributed by Justin McClain, teacher at Bishop McNamara High School and author of Called to Teach: Daily Inspiration for Catholic Educators. The weekly reflections are a regular feature in our Friday Weekly Round Up blog posts on www.nceatalk.org – check back each Friday for a new weekly reflection.
Fourteenth Sunday in Ordinary Time – July 9, 2017
Gospel Reading: Matthew 11:25-30
"I give praise to you, Father, Lord of heaven and earth, for although you have hidden these things from the wise and the learned, you have revealed them to little ones."
The youth are typically more open to the things of God than are we adults. This is especially true of young children. However, even for seemingly jaded teenagers, adolescent inquisitiveness can be translated into a curiosity about profound matters, such as their relationship with God and the implications of eternity. Read the remainder of this passage (i.e., Matthew 11:26-30), and remember that the goal of all that we do in Catholic schools is to draw our students to find enduring respite in Christ's abiding presence.
Reflect on how you can lead your students to know that "[Jesus] will give [them] rest" (see Matthew 11:28).