Catholic School Teachers and Administrators Collaborate with Education Experts to Advance Bilingual Education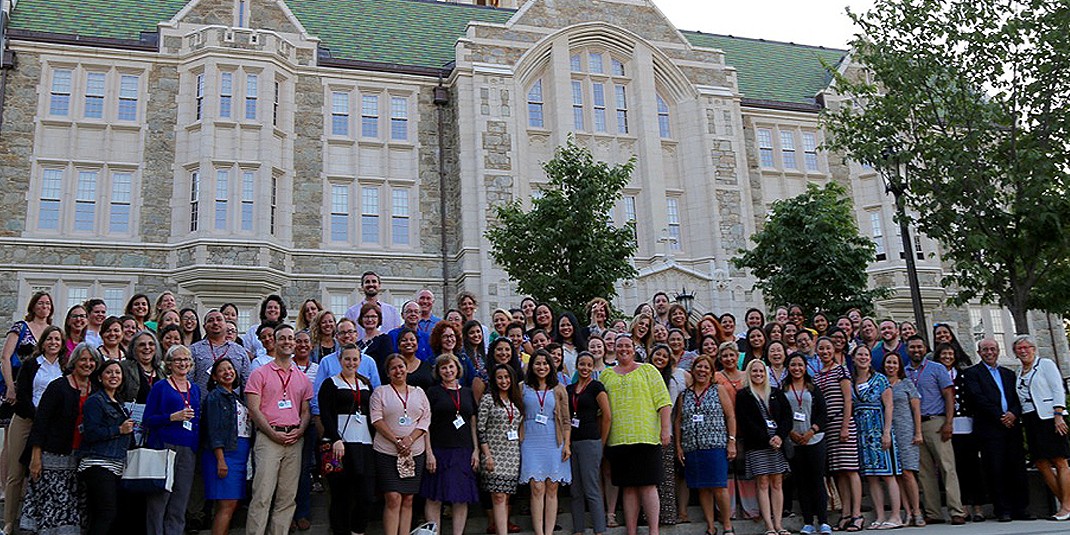 The Barbara and Patrick Roche Center for Catholic Education hosted over 120 Catholic school teachers and administrators June 18-22 for the annual Summer Academy of the Two-Way Immersion Network for Catholic Schools (TWIN-CS). Eighteen Catholic elementary and middle schools from nine states participated in the week of workshops, activities, and seminars focused on the development and sustaining of two-way immersion programs and networks for Catholic schools in order to better serve a more culturally and linguistically diverse student population.
In its fifth year, TWIN-CS has garnered nationwide attention for its pioneering and transformative work in bilingual and bi-literate Catholic education. In 2012, twelve schools comprised the network. Today, TWIN-CS features eighteen full member schools and an additional eight "study schools," who are in a process of discernment and planning for whole school change from their monolingual curriculum to a two-way immersion educational model. Member schools serve populations of which at least one-third speak the same non-English language, and implement curriculum in Spanish or Mandarin and English. One of the twenty-six entrepreneurial elementary schools features all three languages.
The network strives to "return schools to their original mission: to serve all who seek a Catholic education, especially those on the margins, and embrace cultural and linguistic diversity," said Kristin Melley, the Roche Center's Director of Professional Development and lead member of the TWIN-CS design team. The team also features experts in assessment, applied psychology, literacy development, and school leadership from Boston College's Lynch School of Education and other universities, who
present and consult with schools at the Academy and act as advisors throughout the academic year.
Click here to read the full article in the NCEA Newsroom.