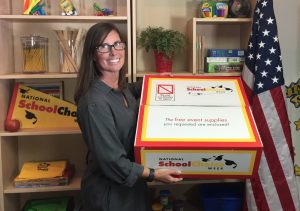 The National School Choice Week (January 21-27, 2018) campaign is offering to all school membership organizations (diocese) across the country free NSCW supplies, including the iconic yellow fleece scarves, posters, lapel stickers, and more, to all of your member schools, at no cost to them or to you.
However, the NSCW will need a list of schools by November 3, 2017.
If you are interested, please take a look at the attached informational sheet and if you have any questions, please contact Virginia Gentles, NSCW Senior Advisor, at virginia@schoolchoiceweek.com.
---
With tens of thousands of schools, organizations, and local chambers of commerce participating, National School Choice Week 2018 will be the largest celebration of educational opportunity in American history.
Now, National School Choice Week (NSCW) is making it easier for you to guarantee that none of your schools will miss out on the fun. We will provide all of your schools with a free box of NSCW supplies at no cost to them, and at no cost to you.
How it Works
Participation is simple! Just send us a Microsoft Excel mailing list of your member schools. The only time we'll use your list is to send free NSCW materials to your schools in 2018. When we receive your list, we will send each school on your list a box of free NSCW supplies.
For additional information, please access the School Choice Week – School Membership Organizations Flyer.