Athletics programs in Catholic schools encompasses more than just the benefit of physical activity, high fives, school spirit and team pride. School-based sports programs can bring out noticeable positive change in school culture.  In fact, athletics programs can be used to advance school effectiveness, drive the school's mission and, most importantly, deepen student athletes' relationship with Jesus Christ. With great enthusiasm for the transformational power of a mission-driven athletic program, it is a pleasure to announce the 2018 NCEA Visions for Excellence Soul of Youth Sports Conference (SOYSC 2018), which will take place February 21-23, 2018 in Lenexa, Kansas. Attendees will engage with thought leaders in a national conversation about how an athletics program rooted in mission enriches the lives of student athletes and the entire school community.
Keynote Address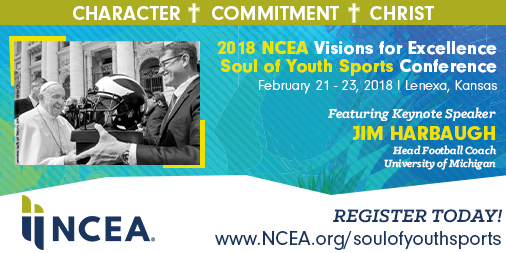 Jim Harbaugh
Head Football Coach, University of Michigan
Passionate about Catholic education and mission-driven athletics, Jim Harbaugh will emphasize how strong athletics programs can bring transformative change and foster school culture.
SOYSC 2018 will provide top-level professional development to diocesan leaders, athletic directors, coaches, assistant coaches, principals/presidents, CYO directors/coaches/coordinators or Catholic school educators who work with student athletes.  This program is designed to offer practical skills, quality professional development and networking opportunities for Catholic educators.
Topics includes:
Team Spiritual Formation
Adult Spiritual/Professional Formation for Staff
Christian Ethics for Athletes, Parents and Coaches
Mission-Driven Athletics
Building Successful Athletics Programs
Athletic Program Contributions to School Mission and Advancement