The following article was contributed by Ricky Turner, Athletic Director at Blessed Trinity Catholic High School in Roswell, GA.
Building Catholicity into an athletic program is all about understanding our primary mission as a Catholic school as a place where the faith formation of students and each member of our community is the top priority. When we see ourselves as an integral part of the saving mission of the Catholic Church, then, naturally, everything we do will be rooted in that mission. With athletics, we have a unique opportunity to impact students, coaches, and families to see sports as a means to understanding ourselves as gifted sons and daughters of God and to develop those gifts on the playing field.
In order to do that, we strive to focus on five key areas to ensure that our athletic teams are indeed Catholic and that our coaches, athletes and families are able to practice, witness and grow in their faith.
Prayer and worship: In a meaningful and authentic way, team and communal prayer is essential to each of our teams and the department as a whole. At practices, as part of competitions, the incorporation of the team Mass and other community devotions, our coaches, athletes and families participate in these opportunities in a life-giving way.
Service: As an athletic department, this is definitely something we expect from each team. More importantly, the faith and perspective of mission-driven coaches makes this an integral part of the culture of each team. In addition to team collection drives, our coaches have developed service traditions within their teams that benefit our school family and the community at large that have become as important to athletes as the success of their season.
Virtue and Character: In a culture where virtue and character seem to matter less and less, athletics provides a venue where, each day, we can teach and witness what it means to be a child of God, to be young women and men of strong virtue and character. Our mission is the formation of the child. Highlighting weekly virtues, witnessing to those as coaches and mentors, and providing examples from the Church and our society helps student-athletes understand the importance of a virtuous life and strengthens their resolve to not be swept up in the way of our culture, but instead the way of strong virtue and courageous character.
Coach/Athlete Mentoring: Sports provides countless opportunities for coaches to impact student-athletes for the rest of their lives. Kids love sports! We try to equip our coaches with insight into kids' lives where we can to assist in this. We have a great system where coaches, teachers, counselors, administrators, and parents communicate and collaborate where needed to make sure athletes are well cared for and coaches can continue to support each aspect of their players' lives. We stress the importance of athletic success all within the context of the overall well-being of the child.
Expectations/Standards: Student-athletes can have very demanding lives as they balance academics, athletics, family, and their own social life. Providing clear expectations is essential to ensuring virtuous behavior and team success. Student-athletes are affirmed and rewarded for their successes as well as corrected when they fall short. An athletic program that systematically provides this guides student-athletes in their efforts to manage their time, put forth maximum effort, consider the wellbeing of the team, develop habits of self-giving and strive to be the best version of themselves.
---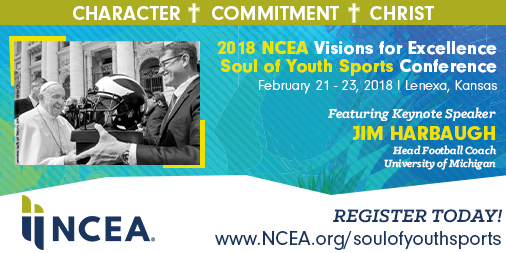 To learn more about Building a Dynamically Catholic Athletic Program and other mission-driven athletic programs, join us for the 2018 NCEA Visions for Excellence Soul of Youth Sports Conference featuring keynote speaker, Jim Harbaugh.