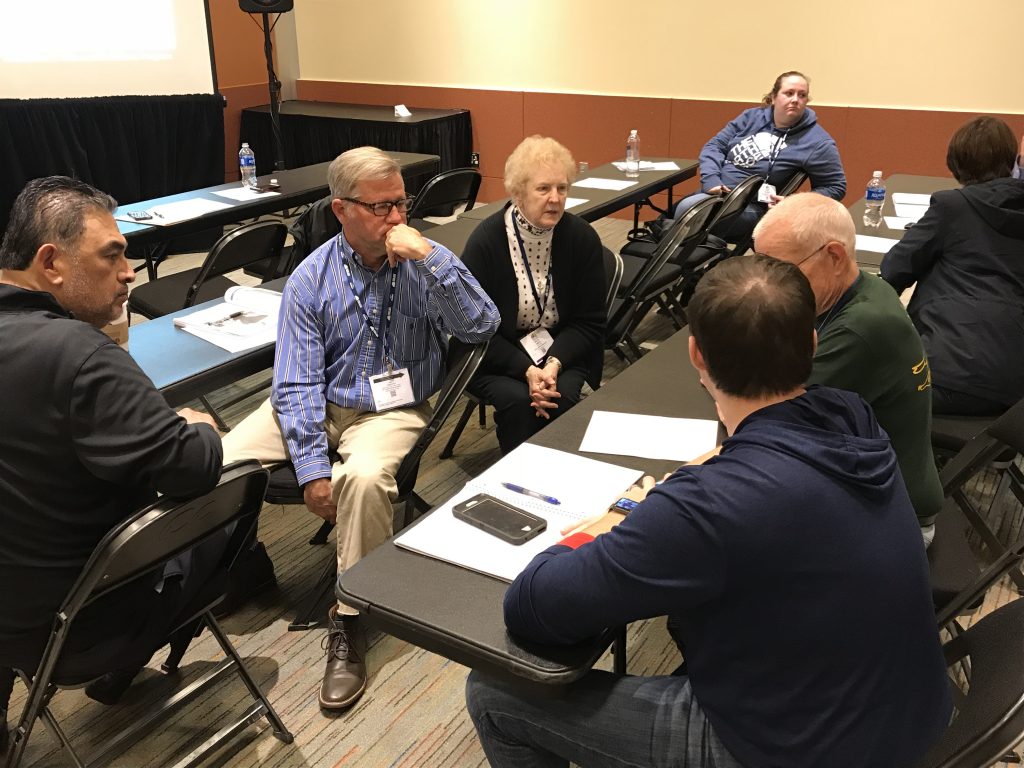 Society defines success based on results. In Catholic school athletic programs, success should be viewed in a much broader scope. St. John Vianney High School's Athletic Department has developed an approach to faith formation for all of their programs which has broadened their definition of success beyond the playing field.
Define success within the athletic program
Help your student-athletes to understand the importance of developing as a person
Determine your student-athlete's identity
Buy in from everyone; coaches, parents, administration, etc.
Macro Approach: The athletic program as a whole
The energy of the athletic program should be aligned with the most important aspect – development of the student athlete as a person, not as a performer. This includes helping student athletes navigate a completive environment as well as helping the coaches understand the importance of athletic programs.
---
Adaption
Help the student athletes find their purpose, help them face the truth and help them align with who they want to become.
Success vs Winning
Losing out on opportunities to teach, build and develop beyond the scope of winning on the field or court. You cannot focus on wins and losses; there should also be a focus on the growth of the community surrounding the team.
---
Ask Why We Play?
This is about the adults, not the students.
Persevere towards the principle of continuous improvement. It has nothing to do with the scoreboard – a need to create and environment to get better on and off the field is the first priority. How do you deal with success and growth opportunities? Within all programs, leaders are very important. More often than not, your athletic apostles are not the best players on the team. As an athletic program, you need to give them the tools to cultivate leadership skills while allowing for them to have a good experience.
We need to help our guys develop a relationship with Jesus Christ, if don't help them build this relationship, we have failed.
Society deems what success looks like – this is false. The parents, local media, alumni and student body deem what success looks like. Within this, there has to be a spiritual component to your approach.
People
Spiritual Leaders (Athletic Apostles) – Can be team or coach appointed
Two-three apostles per team.
Apostles are a selected group of student-athletes who serve our athletic teams as spiritual leaders. Their responsibilities are to lead each team I prayer, service projects, spiritual activities, etc. The main objective is to help out student-athletes to develop a greater relationship with Jesus Christ.
Provide an Acceptance Letter
Dear Athletic Apostle,
Congratulations on being selected by your team to become an athletic apostle. This is a very important responsibility. You are the spiritual leader on your team. Your coach and teammates see something special in you. Please accept this responsibility with honor and pride.
Our first meeting will be Wednesday, March 21 at 8:00 AM at meeting place and time.
We are looking forward to working with you to grow as a spiritual leader and to help you and your teammates build a deeper relationship with Jesus through athletics.
Coach Cochran and Fr. Kenney
---
Spiritual Program
Helping the athletic apostles understand their power and position. They should be a Godly person; you can't give what you don't have. As a coach, we need to educate them to lead and give them confidence in who they are.
Athletic Apostle Activities
Daily Communion/Mass

Four days a week – each day during the week, a different team has a communion service.
Weekly mass for each team

Seasonal Masses

Athletic Apostles are the designers, set-up, greeters, readers, ministers and provide a breakfast for all the student-athletes, coaches and community.

Retreats – every program hosts a different retreat

Different locations
Different themes
Different activities
Same objective – Help the student-athletes have a closer relationship with Jesus Christ and have fun while doing so

Service Projects
Creating Prayers – each sports program's prayer will be different

Gratitude
Involve everyone
Who is your audience
Get to the point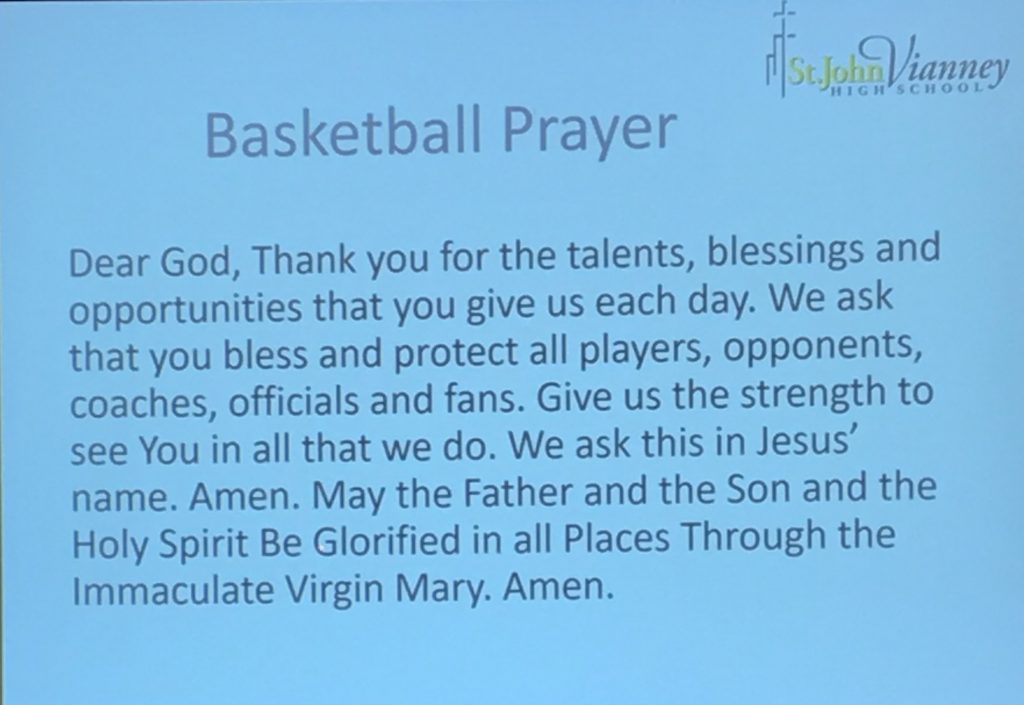 Find ways for our student-athletes Lead, Interact, Share and Figure out who they are.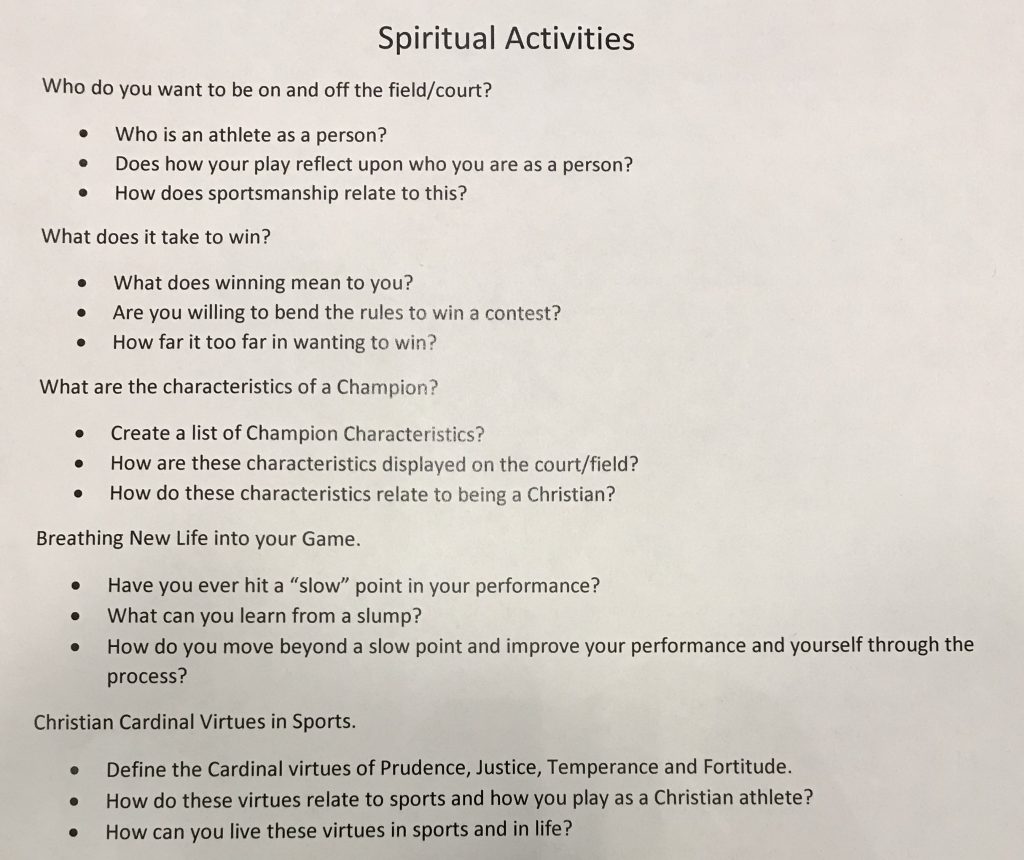 ---
Character development
Write down your definition of character
Character drives performance
Your character will decide this process
We want the person to be greater than the player
No one loses if your players get healthier in terms of character. They become stronger people, driving them as a player, and their sport moves them closer to the person they want to become.
But what drives their success? Character. Character is what drives the process, which drives the result. If you invest energy into what drives success, then you can focus on the things that will allow you to develop that person.
Character skills that govern your relationship with yourself include performance and moral skills. They will get you to the top. All of these skills can be developed through education and understanding. Work with your student-athletes to define the following skills:
Performance Skills
Hardworking – paying the price with effort
Competitive – striving to be your best
Positive – good and useful thinking
Focused – eliminating distractions
Moral Skills
Unselfish – putting others first
Honest – Telling the truth
Respectful – showing consideration
Appreciative – recognizing the good in everything
---
Have questions? Contact Terry Cochran CAA, Athletic Administrator for St. John Vianney High School at tcochran@vianney.com or 314.965.4853 ext. 124.